Morfometrik tubuh kambing Peranakan Ettawa pada berbagai paritas di balai Pembibitan dan Budidaya Ternak Terpadu Kabupaten Kendal
Keywords:
Ettawa Grade goat, parity, litter size, morphometric
Abstract
The objective of this study was to determine the relation between morphometric of different parity and litter size in Ettawa Grade goat. The material of this study was 47 heads of Ettawa Grade goat. Purposive sampling was applied to determine sample based on population and breeding policy. The Ettawa Grade used were does from1-4 parities and having litter size records from first kidding. Morphometric characteristics measured were chest depth, chest width, hip width, hip height, heart girth, body length, and withers height. The data obtained were analyzed using General Linear Model (GLM) and Principal Component Analysis (PCA) of Statistycal Analysis System (SAS) Ver 6.12. The results showed that morphometric of Ettawa Grade goat was vary and different in various parity. The PC1 of body length and heart girth were 0.685 and 0.530 respectively, indicating the most discriminant variabel to determine the differences among parity. Body index of Ettawa Grade goat does did not affect the litter size. In conclusion, body length and heart girth can be used as the differentiation parameter among parity. Litter size will increase with increasing parity.
References
Fajemilehin, O. K. S. dan E. Saloko. 2008. Body measurement characteristics of the West African Dwarf (WAD) Goat in deciduous forest zone of Southwestern Nigeria. Afr. J. Bio-thechnol, 7(14), 2521-2526.
Fourie, P. J., F. W. C. Neser, J. J. Oliver dan C. Van Der Westhuizen. 2002. Relationship between production per-formance, visual appraisal and body measurement of young Dorper rams. South African. J. Anim. Sci, 32(4), 256-262.
Gunawan, I. W., N. K. Suwiti dan P. Sam-purna. 2016. Pengaruh pemberian mineral terhadap lingkar dada, pan-jang dan tinggi tubuh sapi Bali jantan. Buletin Vet. Udayana, 8(2), 128-134.
Hamdani, M. D. I. 2013. Hubungan antara berat badan sapi betina peranakan Ongole dan sapi persilangan pada tingkatan umur yang Berbeda ter-hadap ukuran dan karakteristik Ovar-iumnya. J. Ilmiah Peternakan Terpadu, 1(3), 37-39.
Hamdani, M. D. I. 2015. Perbandingan berat lahir, persentase jeniss kelamin anak dan sifat prolifik induk kamb-ing Peranakan Ettawah pada paritas pertama dan kedua di Kota metro. J. Ilmiah Peternakan Terpadu. 3(4), 245–250.
Kaunang, D., Suyadi dan S. Wahjuningsih. 2013. Analisis litter size, bobot lahir dan bobot sapih hasil perkawinan kawin alami dan inseminasi buatan kambing Boer dan Peranakan Etawah (PE). J. Ilmu-ilmu Peternakan, 23(3), 41–46.
Khargharia, G., G. Kadirvel., S. Kumar., S. Doley., P.K. Bharti dan M. Das. 2015. Principal component analysis of morphological traits of Assam hill goat in Eastern Himalayan India. J. Anim. Plant Sci., 25(5), 1251-1258.
Kostaman, T. dan I. K. Sutama. 2006. Ko-relasi bobot badan induk dengan la-ma bunting, litter size, dan bobot lahir anak kambing Peranakan Etawah. Prosiding Seminar Nasional Teknolo-gi Peternakan dan Veteriner. Bogor, 5-6 September 2006. Pusat Penelitian dan Pengembangan Peternakan. Hal:522-527.
Mahmilia, F., M. Doloksaribu, S. Elieser dan F. A. Pamungkas. 2005. Tingkat produktivitas induk kambing persi-langan (kambing Kacang dan kamb-ing Boer) berdasarkan total bobot la-hir, total bobot sapih, litter size dan daya hidup. Seminar Nasional Teknologi Peternakan dan Veteriner. Deli Serdang, 12-13 September 2005 Loka penelitian Kambing Potong.
Rasminati, N. 2013. Grade kambing Peran-akan Ettawa pada kondisi wilayah yang berbeda. Sains Peternakan, 11(1), 43-48.
SAS Institue Inc. 1990. SAS/STAT User's Guide Version 6. 4th Edition. Volume 2. SAS Campus Drive. Cary. North California.
Sodiq, A. dan Sadewo. 2008. Reproduc-tive performance and preweaning mortality of Peranakan Etawa goat under production system of goat farming group in Gumelar Banyumas. Anim. Prod., 10(2), 67-72.
Sudewo, A. T. A., S. A. Santosa dan A. Susanto. 2012. Produktivitas kamb-ing Peranakan Etawah berdasarkan litter size, tipe kelahiran dan mortali-tas di village breeding centre kabu-paten Banyumas. Prosiding Seminar Nasional Pengembangan Sumber Daya Pedesaan dan Kearifan Lokal Berkelanjutan II. Purwokerto, 27-28 November 2012. Hal: 1-7.
Sutama, I. K. 2008. Pemanfaatan sum-berdaya ternak lokal sebagai ternak perah mendukung peningkatan produksi susu nasional. Wartazoa, 18(4), 207-217.
Sutama, I. K. 2011. Inovasi teknologi mendukung pengembangan kamb-ing perah lokal. Pengembangan Inovasi Pertanian, 4(3), 231–246.
Sutiyono, B., N. J. Widyawani dan E. Purbowati. 2006. Studi performans induk Kambing Peranakan Etawah berdasarkan jumlah anak sekelahiran di Desa Banyuringin Kecamatan Singorojo Kabupaten Kendal. Pro-siding Seminar Nasional Teknologi Peternakan dan Veteriner. Bogor, 5-6 September 2006. Pusat Penelitian dan Pengembangan Peternakan. Hal:537-543.
Sutiyono, B., S. Johari, E. Kurnianto, Y. S. Ondho, Sutopo, Y. Ardian, A. Kusmuhernanda dan Darmawan. 2010. Hubungan penampilan anak domba dari berbagai tipe kelahiran. J. Ilmu-Ilmu Peternakan, 20(2), 24-30.
Udeh, I. dan C. C. Ogbu. 2011. Principal component analysis of body meas-urements in three strains of broiler chicken. Sci. World J., 6(2), 11-14.
Victori, A., E. Purbowati dan C. M. S. Les-tari. 2016. Hubungan antara ukuran-ukuran tubuh dengan bobot badan kambing Peranakan Etawah jantan di kabupaten Klaten. J. Ilmu-ilmu Pe-ternakan, 26(1), 23-28.
Zulfahmi, A., D. Ramdani dan A. A. Nur-meidiansyah. 2016. Performa induk domba lokal yang dipelihara secara semintensif di kecamatan Pamanukan kabupaten Subang. Students e-Journals, 5(4), 1-15.
Zulkharnaim, J. A. Syamsu, M. I. A. Da-gong, dan S. Sabile. 2016. Pening-katan mutu genetik induk dan calon induk kambing PE prolifik melalui pemanfaatan pakan kulit buah kakao. J. Aves., 10 (2), 1 –9.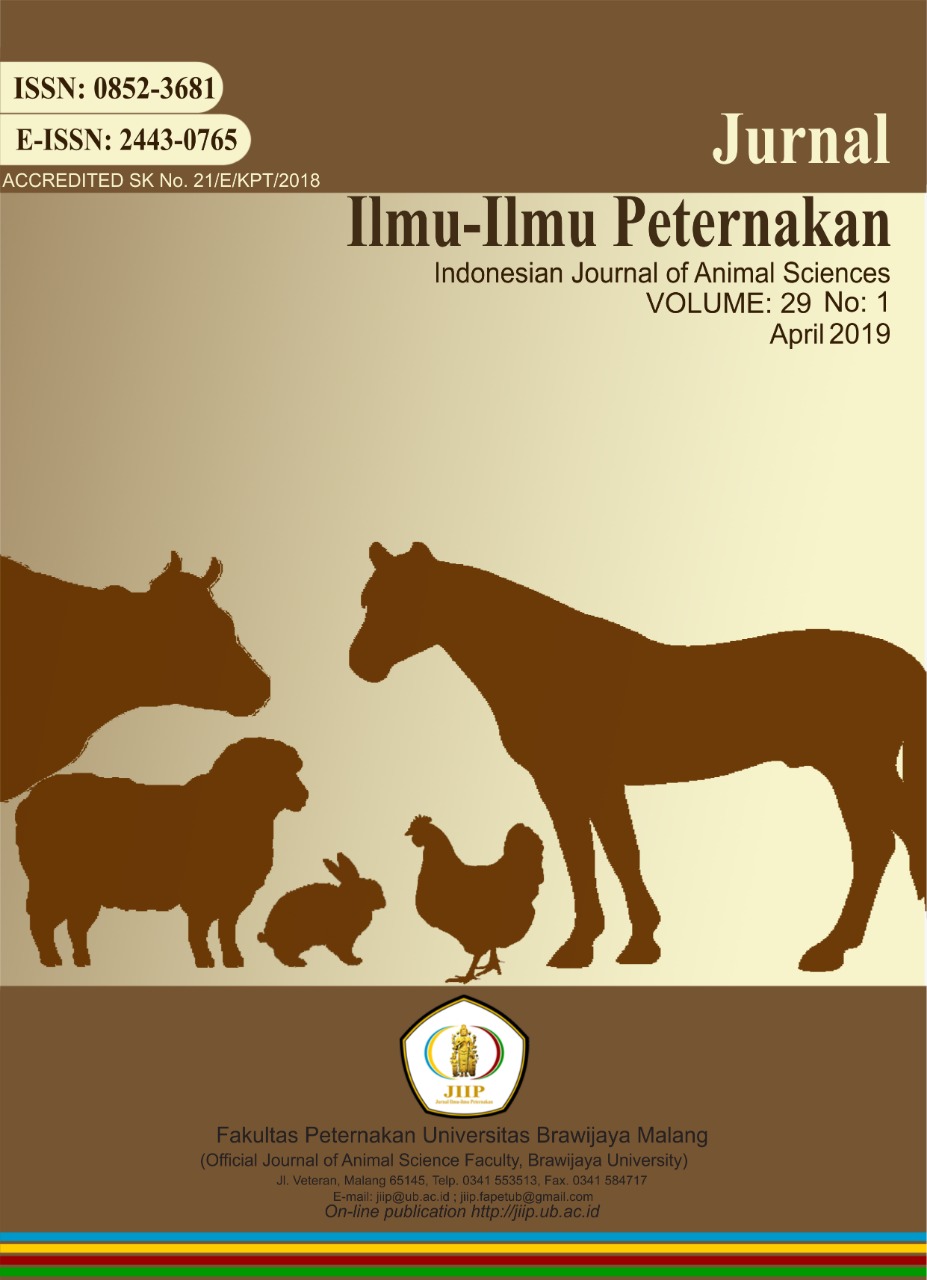 Downloads
License
Authors who publish with this journal agree to the following terms:
Authors retain copyright and grant the journal right of first publication with the work simultaneously licensed under a Creative Commons Attribution License that allows others to share the work with an acknowledgment of the work's authorship and initial publication in this journal.
Authors are able to enter into separate, additional contractual arrangements for the non-exclusive distribution of the journal's published version of the work (e.g., post it to an institutional repository or publish it in a book), with an acknowledgment of its initial publication in this journal.
Authors are permitted and encouraged to post their work online (e.g., in institutional repositories or on their website) prior to and during the submission process, as it can lead to productive exchanges, as well as earlier and greater citation of published work (See The Effect of Open Access).