Telaah potensi hybrid vigor sifat bobot badan pada silangan kambing Boer dan Jawarandu
Keywords:
crossbreeding, hybrid vigor, Boerja goat
Abstract
Crossbreeding program was an option in order to improve Indonesian local goat productivity. In general, crossbreeding is aimed to utilize the benefit ofheterosis (hybrid vigor: HV); where better offspring performance compared to its parents phenotype is expected. Currently, crossbreeding between Boer bucks and  Jawarandu does is widely practised; resulting in a crossbred called Boerja. However, information regarding the HV effect were less available. Thus, this study aims to calculate HV in Boer × Jawarandu in relative to the mid-parental average, and relative to the dam phenotype. Mature body weight (BW) of 504 head of goat derived from Boer buck (n=6), Jawarandu doe (n=15), Boerja F1 (n=298), Boerja F2 (n=167), and Boerja F3 (n=18) were analyzed. Backcross system was applied to produce Boerja F2 (Boer ♂ × Boerja F1 ♀)  and Boerja F3 (Boer ♂ × Boerja F2 ♀). Result shows that BW in Boer, Jawarandu, Boerja F1, Boerja F2, and Boerja F3 were 79,00 ± 16,21; 29,07 ± 3,76; 41,84 ± 4,12; 41,69 ± 3,68 and 39,96 ± 4,97 kg respectively. The heterosis value of Boerja F1, Boerja F2, and Boerja F3 in relative to the parents average were -23, -31, and -34%, while in relative to the dam were 44, 0, and -4% respectively. According to HV value, it is concluded that the most optimum result of Boer × Jawarandu crossbreeding was found in Boerja F1. Higher Boer breed proportion in F2 and F3 were found to have lower BW.
References
Batubara, A., Doloksaribu, M., & Tiesnamurti, B. 2011. Potensi Keragaman Sumberdaya Genetik Kambing Lokal Indonesia. In Lokakarya Nasional Pengelolaan dan Perlinsungan Sumber Daya Genetik di Indonesia (pp. 206–214).
Bourdon, R. M. 2014. Understanding Animal Breeding (2nd ed.). United State of Amerika: Pearson New International Edition.
Budisatria, I. G. S. 2014. Carcass Characteristics of Bligon and Kejobong Goats. In Proceedings of the 16th AAAP Animal Science Congress Vol. II 10-14 November 2014 (Vol. II, pp. 973–975). Yogyakarta: Gadjah Mada University.
Casey, N. H., & Van Niekerk, W. A. 1988. The boer goat. I. Origin, adaptability, performance testing, reproduction and milk production. Small Ruminant Research, 1(3), 291–302. https://doi.org/10.1016/0921-4488(88)90056-9
Cassady, J. P., Young, L. D., & Leymaster, K. A. 2002. Heterosis and recombination effects on pig reproductive traits. Journal Animal Science, 80(9), 2303–2315.
Crow, J. F. 2001. Heterosis. Encyclopedia of Genetics, 933. https://doi.org/10.1006/rwgn.2001.0611
Hardjosubroto, W. 1994. Aplikasi Pemuliabiakan Ternak di Lapangan. Jakarta: PT. Gramedia Widiasarana Indonesia.
Harowi, M., Sulastri, & Hamdani, M. D. I. 2016. Perbandingan koefisien heterosis antara kambing boerawa dan saburai jantan pada bobot sapih di kecamatan sumberejo kabupaten tanggamus. Jurnal Ilmiah Peternakan Terpadu, 4(1), 67–72.
Javanmard, A., Panandam, J. M., Sugnaseelan, S., & Yusoff, K. 2010. Allele frequencies at six candidate genes associated with growth and carcass quality traits in the Boer goats. Journal of Biotechnology, 9(43), 7236–7238.
Kinghorn, B., Werf, J. van der, Ryan, M., van der Werf, J., & Ryan, M. 1999. Animal Breeding Use of New Technologies. Sidney: The Post Graduate Foundation in Veterinarian Science of the University of Sydney.
Lu, C. D. 2001. Boer Goat Production : Progress and Perspective. In Proceedings of International Conference on Boer Goats. October 20-24, 2001. (pp. 1–11). Anshun, China.
Malan, S. W. 2000. The improved Boer goat. Small Ruminant Research, 36(2), 165–170. https://doi.org/10.1016/S0921-4488(99)00160-1
Mardhianna, I., Sukarno, S. D., & Dilaga, I. W. S. 2015. Hubungan antara ukuran-ukuran tubuh dengan bobot badan kambing jawarandu jantan berbagai kelompok umur di kabupaten Blora. Animal Agriculture Journal, 4(2), 264–267.
Nei, M. 1972. Genetic Distance between Populations. The American Naturalist. https://doi.org/10.1086/282771
Nugroho, T., Nurhidayati, A., Ayuningtyas, A. I. I., Kustiyani, C., Prastowo, S., & Widyas, N. 2018. Birth and weaning weight of kids from different Boer goat crosses. In IOP Conference Series: Earth and Environmental Science (Vol. 142, p. 012010). https://doi.org/10.1088/1755-1315/142/1/012010
Oldenbroek, K., & Waaij, L. van der. 2015. Textbook animal breeding. Animal breeding and genetic for BSc student. Wageningen: Center for Genetic Resources and Animal Breeding and Genomics Group, Wageningen University and Reasearch Center, The Netherlands. Groen Kennisnet.
Shrestha, J. N. B., & Fahmy, M. H. 2007. Breeding goats for meat production: 2. Crossbreeding and formation of composite population. Small Ruminant Research, 67(2–3), 93–112. https://doi.org/10.1016/J.SMALLRUMRES.2005.10.018
Solaiman, S. G. 2010. Goat Science and Production. Goat science and production. Iowa, USA: Blackwell Publishing.
Springer, N. M., & Stupar, R. M. 2007. Allelic variation and heterosis in maize : How do two halves make more than a whole ? Genome Research, (612), 264–275. https://doi.org/10.1101/gr.5347007.264
Suryo. 2004. Genetika (cetakan 10). Yogyakarta: Gadjah Mada University Press.
Tambasco-Talhari, D., de Alencar, M. M., de Paz, C. C. P., da Cruz, G. M., de Andrade Rodrigues, A., Packer, I. U., … de Almeida Regitano, L. C. 2005. Molecular marker heterozygosities and genetic distances as correlates of production traits in F1bovine crosses. Genetics and Molecular Biology. https://doi.org/10.1590/S1415-47572005000200007
Wang, X., Liu, J., Zhou, G., Guo, J., Yan, H., Niu, Y., … Chen, Y. 2016. Whole-genome sequencing of eight goat populations for the detection of selection signatures underlying production and adaptive traits. Scientific Reports. https://doi.org/10.1038/srep38932
Williams, R. B. H., Chan, E. K. F., Cowley, M. J., & Little, P. F. R. 2007. The influence of genetic variation on gene expression, 17, 1707–1716. https://doi.org/10.1101/gr.6981507.specific
Wodzicka-Tomaszewska, M., Djajanegara, A., Gardiner, S., Wiradarya, T. R., & Mastika, I. M. 1993. Small Ruminant Production in the Humid Tropics. Surakarta: Sebelas Maret University Press.
Zhang, L., Liu, J., Zhao, F., Ren, H., Xu, L., Lu, J., … Du, L. 2013. Genome-Wide Association Studies for Growth and Meat Production Traits in Sheep. PLoS ONE. https://doi.org/10.1371/journal.pone.0066569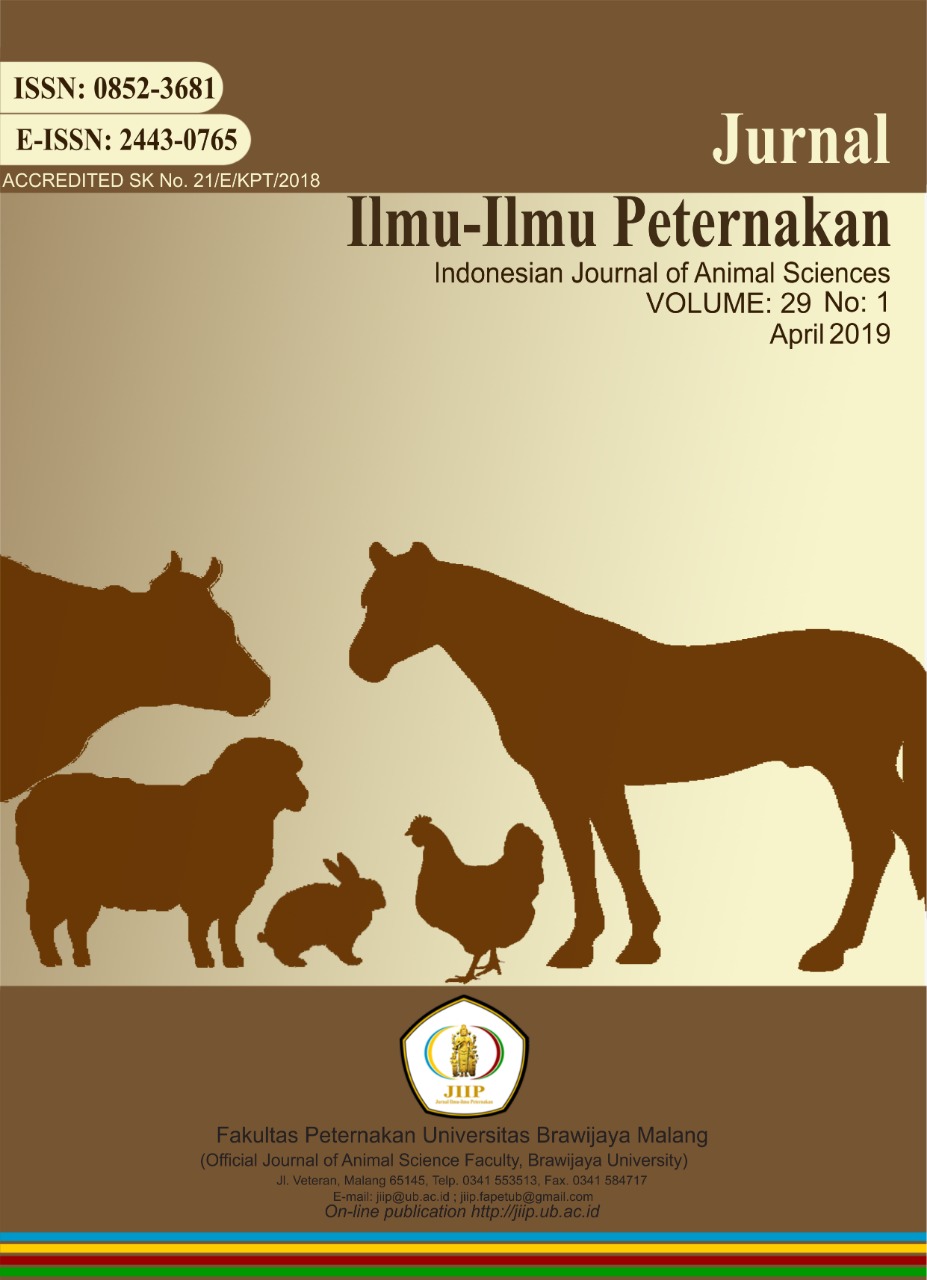 Downloads
License
Authors who publish with this journal agree to the following terms:
Authors retain copyright and grant the journal right of first publication with the work simultaneously licensed under a Creative Commons Attribution License that allows others to share the work with an acknowledgment of the work's authorship and initial publication in this journal.
Authors are able to enter into separate, additional contractual arrangements for the non-exclusive distribution of the journal's published version of the work (e.g., post it to an institutional repository or publish it in a book), with an acknowledgment of its initial publication in this journal.
Authors are permitted and encouraged to post their work online (e.g., in institutional repositories or on their website) prior to and during the submission process, as it can lead to productive exchanges, as well as earlier and greater citation of published work (See The Effect of Open Access).