Keberhasilan IB menggunakan semen beku hasil sexing dengan metode sedimentasi putih telur pada sapi PO cross
Abstract
The study was conducted in subdistrict Pakis, Malang Regency from May to July 2013. The study materials were 54 Ongole crossbred cattle. Twenty seven cattle were inseminated using non sexed semen (P0) and 27 cattle were inseminated using sexed semen (P1). Samples were selected randomly using criterion that semen deposition was in position 4+. Gestation evaluation was calculated based on non return rate (NRR), service per conception (S/C) and conception rate (CR). The study showed that P0 had 74% of NRR and P1 had 59% of NRR. S/C was found 1.37 at P0 and 1.48 at P1. CR was found 74% at P0 and 59% at P1. The study concluded that non sexed semen increased better gestation for Ongole crossbred cattle than sexed semen The study suggested that sexed semen remains able to be inseminated to those cattle with high attention on the sexing procedures.
 
Keywords: Sexing, egg white sedimentation methods, NRR, S/C, CR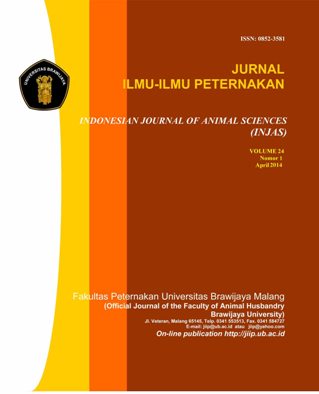 Downloads
License
Authors who publish with this journal agree to the following terms:
Authors retain copyright and grant the journal right of first publication with the work simultaneously licensed under a Creative Commons Attribution License that allows others to share the work with an acknowledgment of the work's authorship and initial publication in this journal.
Authors are able to enter into separate, additional contractual arrangements for the non-exclusive distribution of the journal's published version of the work (e.g., post it to an institutional repository or publish it in a book), with an acknowledgment of its initial publication in this journal.
Authors are permitted and encouraged to post their work online (e.g., in institutional repositories or on their website) prior to and during the submission process, as it can lead to productive exchanges, as well as earlier and greater citation of published work (See The Effect of Open Access).