UJI AKURASI PIRANTI SENSOR TRANSDUSER UNTUK MENENTUKAN WAKTU TERJADINYA BERAHI PADA SAPI
Abstract
The success of estrus detection ensure the correct time of insemination so the high conception rate can be resulted. This research was objected to design an electronic equipment as sensor transducer for measuring the change of circular pressure of vaginal wall of the cows. A sensor used was Load cell type M322. The sensor was connected to microcontroller and a display. The results showed that the applied sensor on a stainless steel transducer steak with a diameter of 2.5 cm and length of 40 cm measured a sensitive change of pressure attach it. This sensitivity was tested to measure the change of pressure of different dept of water i.e. 0, 10, 20, 30, 40 and 50 cm. Two equations was resulted from this measurement, while a linear regression was Y= -36.412+197.53X a quadratic equation was Y= 253.3+84.09X+5.09X2. The sensor was then applied in estrus beef cow, not estrus beef cow and estrus dairy cow for 10 days. The same pattern was observed in estrus of both beef and dairy cows: a high values were detected in the non estrus phase while during estrus phase the values were in basal. In contrast, anestrus cow showed high value during 10 days observation, and 5 min application of each. In conclusion, this designed estrus detector was possible to be developed toward application in the farmers after some modifications were created. (JIIPB 2010 Vol 20 No 1: 11-21).
Key words :
sensor transducer, uterine wall pressure, estrus-non estrus cows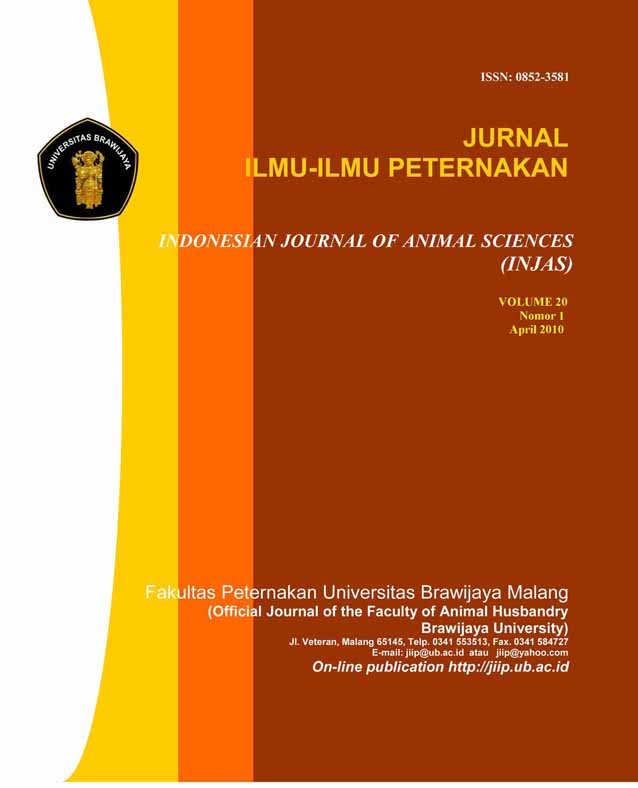 Downloads
License
Authors who publish with this journal agree to the following terms:
Authors retain copyright and grant the journal right of first publication with the work simultaneously licensed under a Creative Commons Attribution License that allows others to share the work with an acknowledgment of the work's authorship and initial publication in this journal.
Authors are able to enter into separate, additional contractual arrangements for the non-exclusive distribution of the journal's published version of the work (e.g., post it to an institutional repository or publish it in a book), with an acknowledgment of its initial publication in this journal.
Authors are permitted and encouraged to post their work online (e.g., in institutional repositories or on their website) prior to and during the submission process, as it can lead to productive exchanges, as well as earlier and greater citation of published work (See The Effect of Open Access).