POTENSI LITTER SIZE KELINCI DENGAN PENYUNTIKAN HORMON HCG (Human Chorionic Gonadotrophin) PADA LEVEL PAKAN TRADISIONAL
Abstract
The effect of HCG on litter size of rabbits with traditional diet was examined. Twenty four New Zealand White doe's of 8 to 10 months of age were used. They were allotted to three treatments, namely H0 (no hormone), H1 (with 10 IU of HCG), and H2 (with 20 IU of HCG). The traditional diet consisting of grass fields and fine bran was used. In mid-gestation each treatment performed surgery on 50% of the total number of replications for the observation variable ovulation and embryo, while 50% of the remaining replications maintained continue to get another variable that was a lenght of gestation and the litter size.
The results showed that the injection of HCG affected the number of ovulation (P <0.01), the number of embryos (P < 0.01), the number of the litter size (P < 0.01) and the long gestation (P<0.05) significantly. (JIIPB 2010 Vol 20 No 1: 92-97).
Keywords: Rabbit, HCG, litter size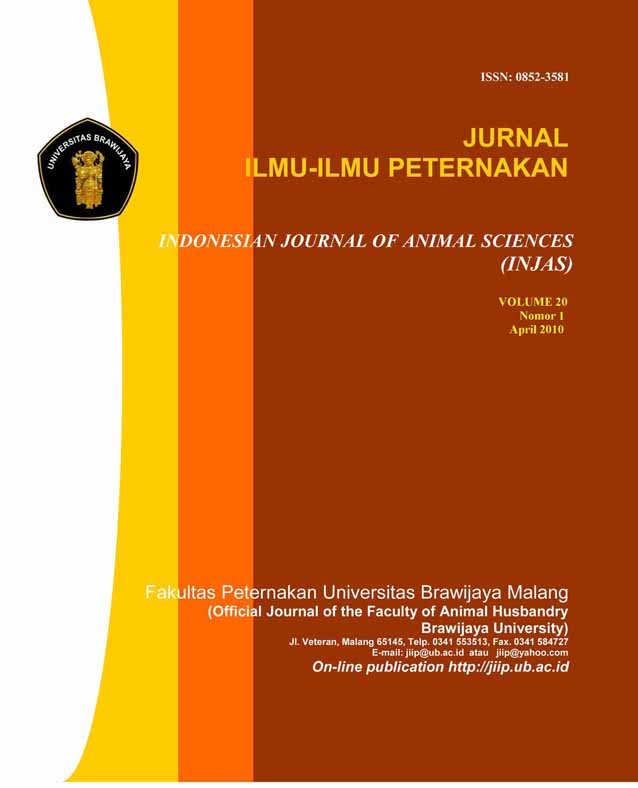 Downloads
License
Authors who publish with this journal agree to the following terms:
Authors retain copyright and grant the journal right of first publication with the work simultaneously licensed under a Creative Commons Attribution License that allows others to share the work with an acknowledgment of the work's authorship and initial publication in this journal.
Authors are able to enter into separate, additional contractual arrangements for the non-exclusive distribution of the journal's published version of the work (e.g., post it to an institutional repository or publish it in a book), with an acknowledgment of its initial publication in this journal.
Authors are permitted and encouraged to post their work online (e.g., in institutional repositories or on their website) prior to and during the submission process, as it can lead to productive exchanges, as well as earlier and greater citation of published work (See The Effect of Open Access).