EFEK LANTAI KANDANG (Renggang dan Rapat) DAN IMBANGAN JANTAN-BETINA TERHADAP FERTILITAS, DAYA TETAS DAN KEMATIAN EMBRIO PADA BURUNG PUYUH (Coturnix-coturnix japonica)
Abstract
The aim of the research was to study the effect of cage floor type (wire and litter) and sex ratio on fertility, hatchability and dead embryo of quail. The materials used were 24 male and 84 female quails aged 60 days old. The method of research was experiment which was arranged factorially (2x4) with Randomized Block Design (RBD). The first factor was the type of cage floor which was wire and litter. The second factor was the sex ratio which was 1:2, 1:3, 1:4, and 1:5. The variables were fertility, hatchability, and dead embryo. Data were analyzed with ANOVA and if there were significant differences among the treatments it would be continued with Duncan Multiple Range Test.
The results showed that cage floor type had no effect (P>0.05) on fertility with the average of 80±8,78 to 81±5,37%, hatchability with the average of 82,6±2,46 to 82,93±2,74%, and dead embryo with the average of 17,06±2,74 to 17,37±2,46%. Sex ratio had highly significant effect (P<0.01) on fertility (72,00 to 88,67%) and had no effect (P>0,05) on hatchability (79,78 to 85,79%) and dead embryo (14,21 to 20,21%). There was no interaction effect (P>0.05) between the cage floor type and sex ratio. The conclusion on breeding quail can be used two type of cage floor i.e. litter or wire floor . The sex ratio influenced egg fertility, a higher sex ratio produced lower fertility. It was suggested that in quail's breeding practices could be used both floor type of cage which were wire or litter floor, with sex ratio 1 male and 4 female quails. (JIIPB 2010 Vol 20 No 1: 48-54).
 
Keyword : Quail, cage floor, sex ratio, fertility, hatchability, dead embryo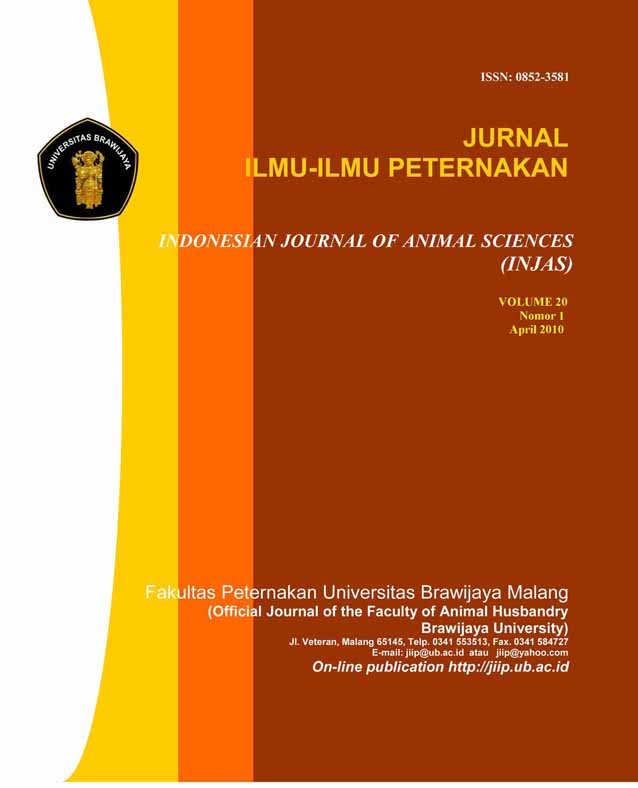 Downloads
License
Authors who publish with this journal agree to the following terms:
Authors retain copyright and grant the journal right of first publication with the work simultaneously licensed under a Creative Commons Attribution License that allows others to share the work with an acknowledgment of the work's authorship and initial publication in this journal.
Authors are able to enter into separate, additional contractual arrangements for the non-exclusive distribution of the journal's published version of the work (e.g., post it to an institutional repository or publish it in a book), with an acknowledgment of its initial publication in this journal.
Authors are permitted and encouraged to post their work online (e.g., in institutional repositories or on their website) prior to and during the submission process, as it can lead to productive exchanges, as well as earlier and greater citation of published work (See The Effect of Open Access).