Evaluasi potensi genetik galur murni boer
Abstract
 
Abstract : Study on genetic potency of pure line Boer was conducted at station research of Sumber Sekar, Faculty of Animal Husbandry, Brawijaya University, Malang, Indonesia. A number of 85 offspring resulted from crossing between dam of Local and sire of 6 (six) blood lines of Boer goat were used in the study. Data were analysed using the analysis of variance procedure with REML (Restricted Maximum Likelihood) method using mixed procedure of SAS. The overall mean of birth weight of offspring crossbred Boer - Local was 3.10 kg ± 0.73 kg. There was no significant difference in birth weight of offspring between blood lines and also between sire within the blood lines. Analysis of variance showed that the average of birth weight was highly significant (P<0.01) affected by type of birth and sex determination of the offspring. The mean values for single, twins and triplets kids were 3.26 ± 0.33 3.20 ± 0.75 and 2.51 ± 0.64, respectively. Type of birth tended to be twins (70.24%) and the rest were for single (15.48%) and triplets (14.29%). Estimation of variance components were 0,052 and 0,406 for blood line and error variance, respectively. Heritability value was moderate, which was 0,4541.
Key words: Boer goat, Local Goat, Birth weight, Type of birth, Heritability.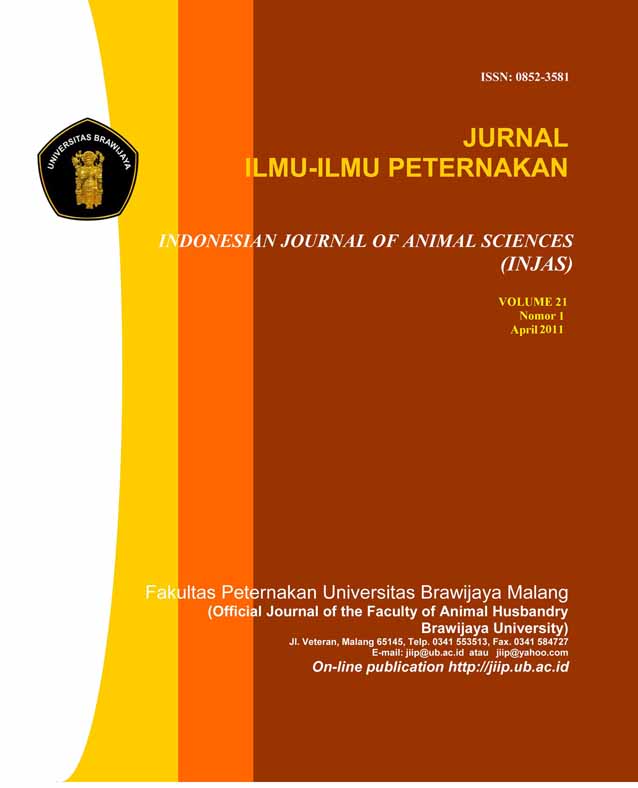 Downloads
License
Authors who publish with this journal agree to the following terms:
Authors retain copyright and grant the journal right of first publication with the work simultaneously licensed under a Creative Commons Attribution License that allows others to share the work with an acknowledgment of the work's authorship and initial publication in this journal.
Authors are able to enter into separate, additional contractual arrangements for the non-exclusive distribution of the journal's published version of the work (e.g., post it to an institutional repository or publish it in a book), with an acknowledgment of its initial publication in this journal.
Authors are permitted and encouraged to post their work online (e.g., in institutional repositories or on their website) prior to and during the submission process, as it can lead to productive exchanges, as well as earlier and greater citation of published work (See The Effect of Open Access).