Antibody against progesterone in local rabbit following low dose of progesterone injection
Abstract
ABSTRACT: Antibody against progesgerone was produced from serum of local rabbit following low dose of progesterone injection: While a control group (Control; n=5) was injected with Freund's adjuvant solution in aquadest, the treatment groups were either firstly injected with progesterone conjugated to Freund's Adjuvant (P--CFA, 150 p.l : 150 pl) or progesterone conjugated to Freund's Adjuvant and bovine serum albumin (P-CFA-BSA; 135 p;l : 150 tt1 : 15 gl). Twice boostering injections were adminstered using incomplete Freund's Adjuvant on day 14 and 52 after first immunization. Weekly bleeding for serum collection were done from 1 week following first booster immunization to week 10, Using ELISA technique it was shown that the antibody titer to progesterone after first and second booster immunization in the P-CFA groug was higher than Control- and P-CFA-BSA groups. The antibody titer in the P-CFA-BSA remained low similar in the Control group:
Key words: antibody; progesterone; rabbit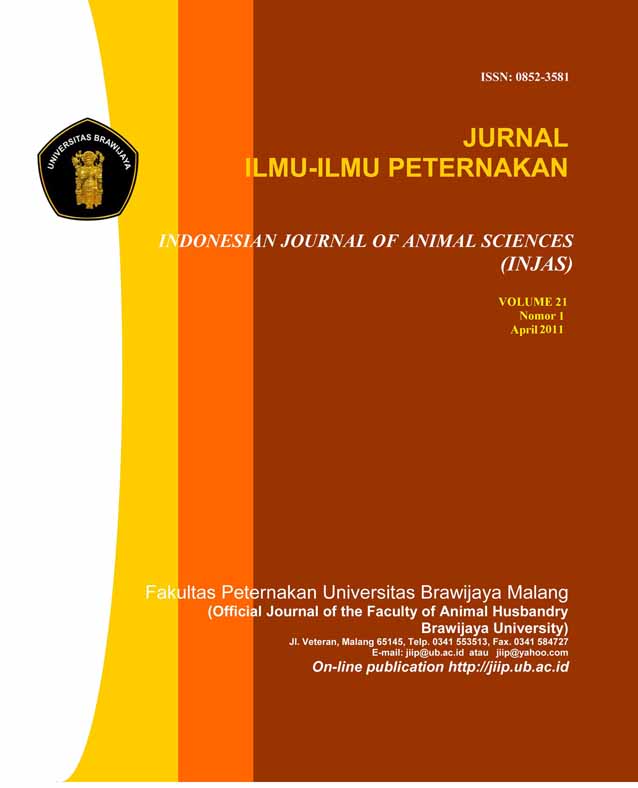 Downloads
License
Authors who publish with this journal agree to the following terms:
Authors retain copyright and grant the journal right of first publication with the work simultaneously licensed under a Creative Commons Attribution License that allows others to share the work with an acknowledgment of the work's authorship and initial publication in this journal.
Authors are able to enter into separate, additional contractual arrangements for the non-exclusive distribution of the journal's published version of the work (e.g., post it to an institutional repository or publish it in a book), with an acknowledgment of its initial publication in this journal.
Authors are permitted and encouraged to post their work online (e.g., in institutional repositories or on their website) prior to and during the submission process, as it can lead to productive exchanges, as well as earlier and greater citation of published work (See The Effect of Open Access).