The Correlation of Microclimate on Milk Productivity and Lactation Percentage of Friesian Holstein Dairy Cattle in Balai Pengembangan Ternak Sapi Perah Hijauan Pakan Ternak (BPTSP HPT) Cikole
Keywords:
Fresian holstein, Microclimate, Milk production, Lactate percentage
Abstract
External and internal factors can affect the body of livestock. External factors consist of climate, offering feed, and maintenance management. Internal factors include the biological aspects of lactating dairy. This research was conducted to see the microclimate relationship between milk production and the proportion of lactation. This study aims to identify and evaluate Friesian Holstein dairy cattle productivity based on the microclimate in BPTSP HPT Cikole. This study used the survey method to obtain secondary data. The regression and correlation test was used to analyze data. Results showed 111 Holstein dairy cattle productivity based on the amount of milk, and lactation proportion fluctuated from 2017 to 2019. The regression results and the impact of microclimate in general on milk production had no significant effect. It was proven that BPTSP HPT Cikole was successful in overcoming the effects of microclimate changes. In conclusion, that temperature, humidity, precipitation, and THI do not affect the production of Friesian Holstein cow's milk at BPTSP HPT Cikole. Based on the regression analysis results, precipitation significantly affects the proportion of lactation with an R2 value of 78.08%.
References
Anggraeni, A., Fitriyani, Y., Atabany, A., & Komala, I. 2008. Penampilan produksi susu dan reproduksi sapi friesian holstein di Balai Pengembangan Perbibitan Ternak Sapi Perah Cikole Lembang. Seminar Nasional Teknologi Peternakan dan Veteriner, (137-145). Bogor, Indonesia.
Astuti, C. C. 2017. Analisis korelasi untuk mengetahui keeratan hubungan antara keaktifan mahasiswa dengan hasil belajar akhir. Journal of Information and Computer Technology Education, 1(1), 1-7. doi: 10.21070/jicte.v1i1. 1127.
Atrian, P., & Shahryar, H. A. (2012). Heat stress in dairy cows (a review). Res In Zoology, 2(4), 31-37. https://doi: 10.5923/j.zoology.20120204.03.
Badan Pusat Statistik. 2019. Sttistik Indonesia 2019. Jakarta (ID): Badan Pusat Statistik. Diakses 8 Januari 2021, dari https://www.bps.go.id-Sea-Delt.
Berman, A. 2005. Estimates of heat stress relief needs for Holstein dairy cows. Journal of Animal Science, 83, 137-145. https://doi.org/10.2527/2005.836 1377x.
Bulitta, F. S., Aradom, S., & Gebresenbet, G. 2015. Effect of transport time of up to 12 hours on welfare of cows and bulls. Journal of Service Science and Management, 8(2), 161-182. https:// doi.org/10.4236/jssm.2015.82019.
Direktorat Jenderal Peternakan & Kesehatan Hewan. 2018. Statistik Peternakan dan Kesehatan Hewan 2018. Jakarta (ID): Direktorat Jenderal Peternakan dan Kesehatan Hewan Kementerian Pertanian RI. Diakses 5 Juli 2020, dari https://ditjenpkh..pertanian.go.id/buku-statistik-peternakan-dan-kesehatan-hewan-tahun-2018.
El-Wishy, A. B. 2013. Fertility of holstein cattle in a sub-tropical climate of Egypt. Iranian Journal Applied Animal Science, 3(1), 45-51. https://www.researchgate.net/publication/286417490.
Enting, H., Kooji, D., Dijkhizen, A. A., Huirne, R. B. M., & Noordhuizen-Stasses, E. N. 1997. Economic losses due to clinical lameness in dairy cattle. Livestock Production Science, 49, 259-267. https://doi.org/10.1016/S03 01-6226(97)00051-1.
Gwazdauskas, F. C. 1984. Effect of climate on reproduction in cattle. Journal of Dairy Science, 68(6), 1568-1578. https://doi.org/10.3168/jds.S0022-0302(85)80995-4.
Hijriani, A., Muludi, K., & Andini, E. A. 2016. Implementasi metode regresi linier sederhana pada penyajian hasil prediksi pemakaian air bersih PDAM way rilau kota Bandar Lampung dengan sistem informasi geografis. Jurnal Informatika Mulawarman, 11(2), 37-42.
Khotimah, K. 2011. Identifikasi populasi dan kualitas susu sapi perah pada anggota kube psp maju mapan desa kemiri kecamatan jabung kabupaten malang. 2011. GAMMA, 7(1), 32-38.
Makin, M., & Suharwanto, D. 2012. Performa sifat-sifat produksi susu dan reproduksi sapi perah fries holland di jawa barat (Milk production and reproduction performance of FH dairy cattle in west java). Jurnal Ilmu Ternak, 12(2), 39-44. https://doi.org/ 10.24198/jit.v12i2.5128.
Marai, I. F. M., El-Darawany, A. A., Fadiel, A., & Abdel-Hafez, M. A. M. 2007. Physiological traits as affected by eat stress in sheep. A review. Small Ruminant Research, 71, 1-12. https://doi.org/10.1016/j.smallrumres.2006.10.003.
Nardone, A., Ronchi, B., Lacetera, N., Ranieri, M. S., & Bernabucci, U. (2010). Effects of climate changes on animal production and sustainability of livestock systems. Livestock Science, 130(1–3), 57–69. https://doi. org/10.1016/j.livsci.2010.02.011.
Novianti, J., Purwanto, B. P., & Atabany, A. 2013. Respon fisiologis dan produksi susu sapi perah FH pada pemberian rumput gajah (Pennisetum purpureum) dengan ukuran pemotongan yang berbeda. Jurnal Ilmu Produksi dan Teknologi Peternakan, 1(3), 138-146.
Priyanti, A., Nurtini, S., & Firman, A. 2009. Analisis Ekonomi dan Aspek Sosial Usaha Sapi Perah. Bogor (ID): Pusat Penelitian dan Pengembangan Peternakan.
Samal, L. 2013. Heat stress in dairy cows: reproductive problems and control measures. International Journal of Livestock Research, 3(3), 14-23. ISSN 2277-1964
Schüller, L., Burfeind, O., & Heuwieser, W. (2016). Effect of short- and long-term heat stress on the conception risk of dairy cows under natural service and artificial insemination breeding programs. Journal of Dairy Science, 99, 1–7. https://doi.org/10.3168/jds. 2015-10080
Sughiri, L., Hermawan, & Indrijani, H. 2015. Perbandingan performa produksi sapi perah friesian holstein impor dengan keturunannya (studi kasus di PT. UPBS Pangalengan). Students e-journals, 4(2), 1-11.
Suherman, D., Purwanto, B. P., Manalu, W., & Permana, I. G. (2013). Model Penentuan Suhu Kritis Pada Sapi Perah Berdasarkan. Jurnal Sain Peternakan Indonesia, 8(2), 121–138. https//doi.org/10.31186/jspi.id.8.2.121-138.
Suwarno, N., & Mushawwir, A. 2019. Model prediksi metabolit melalui jalur glikogenesis berdasarkan fluktuasi mikroklimat lingkungan kendang sapi perah. Jurnal Ilmu dan Industri Peternakan, 5(2), 97-107. https://doi. org/10.24252/jiip.v5i2.11886.
Suwignyo, B., Agus, A., Utomo, R., Umami, N., Suhartanto, B., & Wulandari, C. 2016. Penggunaan fermentasi pakan komplet berbasis hijauan pakan dan jerami untuk pakan ruminansia. Jurnal Pengabdian Kepada Masyarakat, 1(2), 255-264.
West, J. W. (2003). Effects of heat-stress on production in dairy cattle. Journal of Dairy Science, 86(6), 2131–2144. https://doi.org/10.3168/jds.S0022-0302(03)73803-X.
Yani, A., & Purwanto, B. P. (2006). Pengaruh iklim mikro terhadap respons fisiologis sapi peranakan Fries Holland dan modifikasi lingkungan untuk meningkatkan produktivitasnya, Jurnal Media Peternakan, 29(56), 35–46.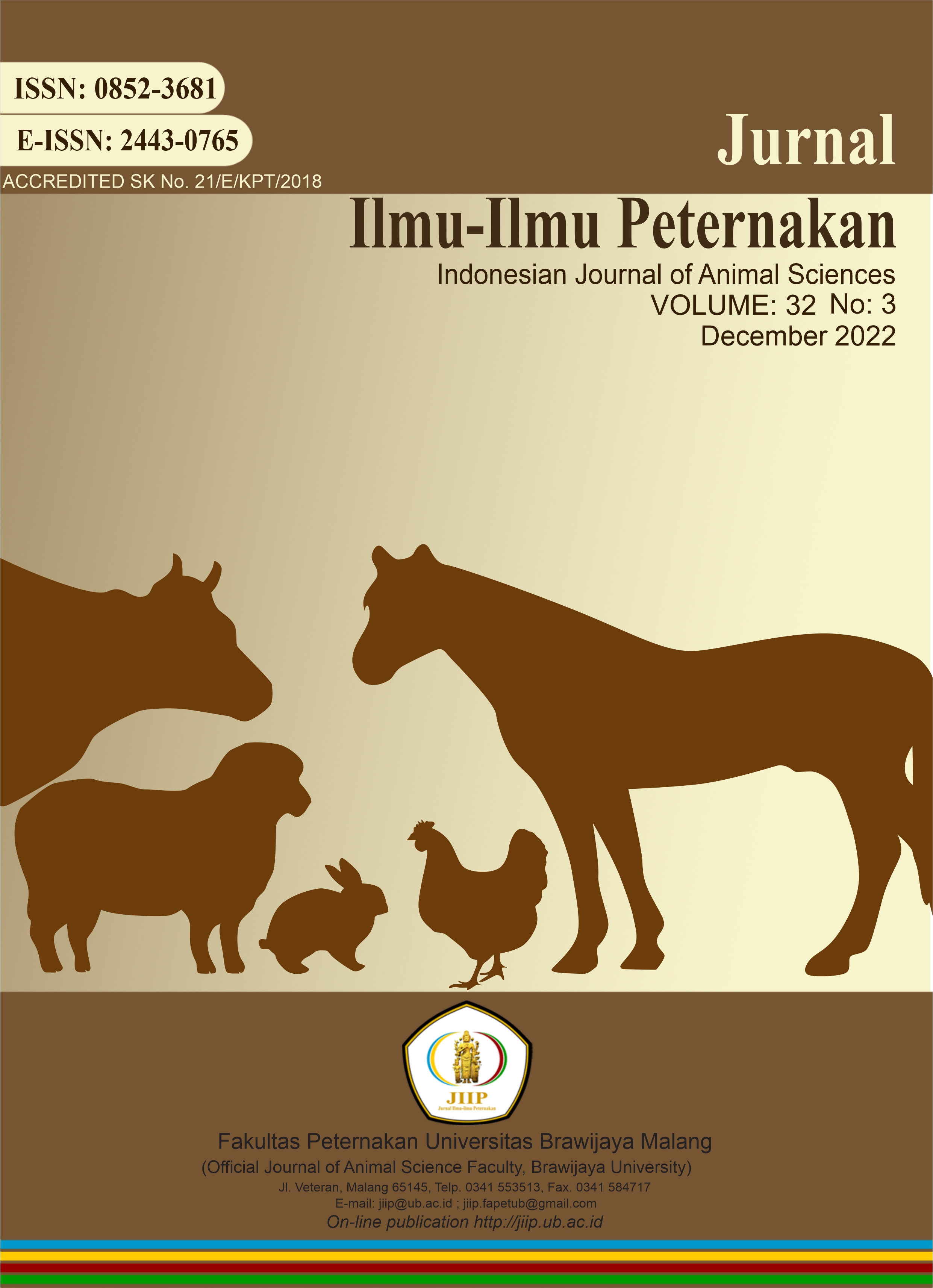 Downloads
License
Copyright (c) 2022 Muhammad Dimas Rachmawanto
This work is licensed under a Creative Commons Attribution-NonCommercial-ShareAlike 4.0 International License.
Authors who publish with this journal agree to the following terms:
Authors retain copyright and grant the journal right of first publication with the work simultaneously licensed under a Creative Commons Attribution License that allows others to share the work with an acknowledgment of the work's authorship and initial publication in this journal.
Authors are able to enter into separate, additional contractual arrangements for the non-exclusive distribution of the journal's published version of the work (e.g., post it to an institutional repository or publish it in a book), with an acknowledgment of its initial publication in this journal.
Authors are permitted and encouraged to post their work online (e.g., in institutional repositories or on their website) prior to and during the submission process, as it can lead to productive exchanges, as well as earlier and greater citation of published work (See The Effect of Open Access).