Innovation characteristics and technology adoption on Probio_FM in the implementation of an integrated farming system in Bangka Tengah
Keywords:
Animal Feed, Innovation Characteristics, Probio_FM Technology
Abstract
The strategy to disseminate innovative technology is vital. It expects the technology to be effective and can be adopted. The assessment of the perception of farmers towards the characteristics of innovative technology is needed to identify the potential implementation of sustainability. The study aims to understand the characteristics of technology innovation of Probio_FM in the food processing of palm oil and to examine the impact of innovation characteristics on the adoption of innovation. The survey was employed as the research method. Structural equation modeling with smart partial least squares was used to analyze the data. The study discovered that the innovation characteristics and adoption of Probio_FM technology were relative advantages, compatibility, complexity, liability, and observability. The innovation characteristics had a significant impact on the adoption process. Technology innovation was accepted by society. The variable of relative advantage, trialability, and compatibility was the most important innovation characteristic of livestock farmers in the process of adoption of Probio_FM technology in food processing of palm oil.
References
Adibrata, S., Bahtera, N. I., Astuti, R. P., & Arkan, F. (2021). The perception level on the impact of integrated livestock-fish production systems on environmental pol-lution. IOP Conference Series: Earth and Environmental Science, 926(1), 012008. https://doi.org/10.1088/1755-1315/926/1/012008
Ahmad, Y. (2016). Pengaruh Karakteristik Inovasi Pertanian Terhadap Keputusan Adopsi Usaha Tani Sayuran Organik. Journal of Agroscience, 6(2), 1–14.
Astuti, R. P., Manin, F., Adriani, A., Bahtera, N. I., & Adawiyah, C. R. (2019). The Agricultural Extension Services to Stock Farmers through Utilizing The Pro-bio_Fm in Improving The Productivity of Beef Cattle in Central Bangka, Indone-sia. 1st Workshop on Multimedia Education, Learning, Assessment and Its Imple-mentation in Game and Gamification, 3–8. https://doi.org/http://dx.doi.org/10.4108/eai.26-1-2019.2283322
Fujiarta, P. I., Sarjana, I. D. G. R., & Putra, I. G. S. A. (2019). Faktor yang Berkaitan dengan Tahapan Adopsi Petani terhadap Teknologi Mesin Rice Transplanter (Ka-sus pada Enam Subak di Kabupaten Tabanan). 8(1), 29. https://ojs.unud.ac.id/index.php/JAA
Hendalia, E. et al. (2018). Aplikasi teknologi probio_FM untuk mengoptimalkan produksi pakan lokal berbasis ikan rucah di kabupaten tanjung jabung barat. Prosiding PKM-CSR, 1, 236–244.
Hendalia, E., Manin, F., & Asra, R. (2017). Aplikasi Probio _ FM Plus melalui Air Minum pada Ayam Broiler di Politani Kupang The Application of Probio _ FM Plus through drinking water in broiler at Politani Kupang. Jurnal Ilmu-Ilmu Pe-ternakan, 20(1), 33–38. file:///C:/Users/Andra/Downloads/4362-Article Text-8733-1-10-20180104.pdf
Hendalia, E., Manin, F., Yusrizal, & Nasution, G. M. (2012). The Application of Pro-biotic in Increasing Protein Efficiency in Reducing Fecal Ammonia on Broiler Chicken. Agrinak, 2(1), 29–35. https://media.neliti.com/media/publications/43128-EN-aplikasi-probiotik-untuk-meningkatkan-efisiensi-penggunaan-protein-dan-menurunka.pdf
Hutapea, Y., Suparwoto, & Efendy, J. (2013). Kecepatan Adopsi Varietas Unggul dan Kelayakan Usahatani Kedelai di Sumatera Selatan. Agriekonomika, 2(2), 123–138.
Irvany, P. N. (2011). Implementation of Organic Rice Farming Technology in Ciburuy Village, Cigombong Sub-district, Bogor Regency. IPB University.
Manin, F. (2010). Potensi Lactobacillus acidophilus dan Lactobacillus fermentum d ari Saluran Pencernaan Ayam Buras Asal Lahan Gambut sebagai Sumber Probi-otik. Jurnal Ilmiah Ilmu-Ilmu Peternakan, XIII(5), 221–228. https://media.neliti.com/media/publications/96656-ID-potensi-lactobacillus-acidophilus-dan-la.pdf
Manin, F., & Hendalia, E. (2012). The potency of Bacillus dan Lactobacillus Bacteria as Probiotic to Reduce Ammonia Pollution in Poultry House. Jurnal Peternakan Indonesia, 14(2), 360–367. file:///D:/UBB/3. Pengabdian Masyara-kat/RJI/Journals/196905-ID-potensi-bakteri-bacillus-dan-lactobacill.pdf
Manin, F., Hendalia, E., Lukman, H., & Farhan. (2014). Pelestarian dan Budi Daya Itik Kerinci sebagai Plasma Nutfah Provinsi Jambi Berbasis Probio_FM di Kecamatan Air Hangat Kabupaten Kerinci Provinsi Jambi. Jurnal Pengabdian Pada Masyarakat, 33(1), 30–50. file:///C:/Users/Andra/Downloads/2456-Article Text-4865-1-10-20150917.pdf
Manin, F., Hendalia, E., Yatno, & Rahayu, P. (2014). Dampak Pemberian Probiotik Probio _ FM Terhadap Status Kesehatan Ternak Itik Kerinci ( Impact of Probi-otik Probio _ FM to Health Status of Kerinci Duck ). JURNAL ILMU TERNAK, 1(2), 7–11. file:///C:/Users/Andra/Downloads/5140-8637-1-SM.pdf
Prabayanti, H. (2010). Faktor-Faktor yang Mempengaruhi Adopsi Biopestisida oleh Petani di Kecamatan Mojogedang Kabupaten Karanganyar. Universitas Sebelas Maret.
Pranoto, Y. S., Agustina, F., & Astuti, R. P. (2020). Pemanfaatan Teknologi Pro-bio_Fm dalam Penerapan Sistem Integrasi Sapi Kelapa Sawit di Bangka Tengah. Agrokreatif: Jurnal Ilmiah Pengabdian Kepada Masyarakat, 6(3), 213–221. https://doi.org/10.29244/agrokreatif.6.3.213-221
Ridwan, H. (2013). Sifat Inovasi dan Peluang Adopsi Teknologi Pengelolaan Tana-man Terpadu Krisan dalam Pengembangan Agribisnis Krisan di Kabupaten Sleman, DI Yogyakarta. Jurnal Hortikultura, 22(1), 86. https://doi.org/10.21082/jhort.v22n1.2012.p85-93
Rogers, E. M. (1995). Diffusion of innovations. In Macmillian Publishing Co. https://doi.org/citeulike-article-id:126680
Sulaiman, A. A., & Darwis, V. (2018). Kinerja dan Perspektif Agribisnis Lada dalam Upaya Meningkatkan Kesejahteraan Petani. Perspektif, 17(1), 52–66.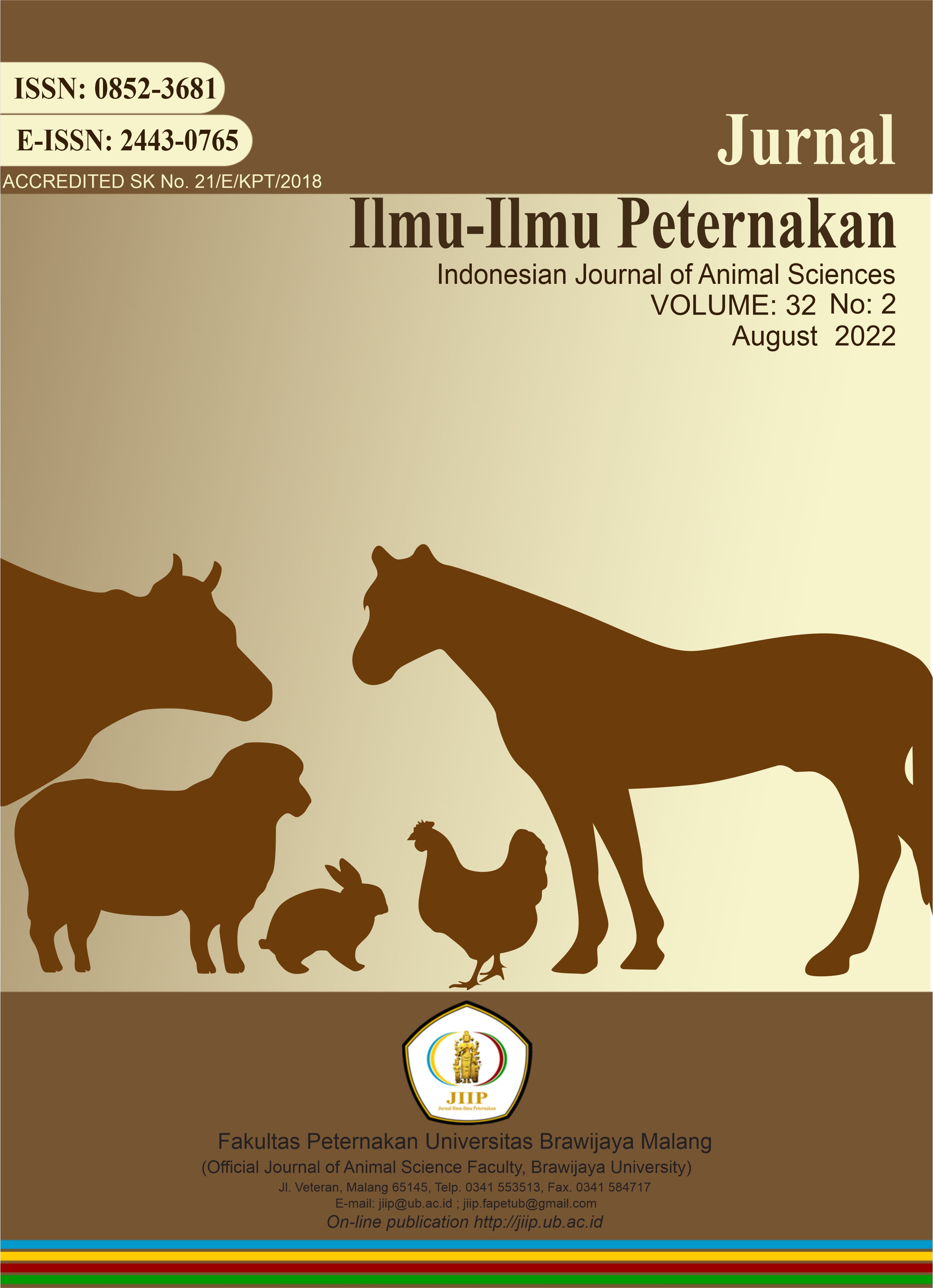 Downloads
License
Authors who publish with this journal agree to the following terms:
Authors retain copyright and grant the journal right of first publication with the work simultaneously licensed under a Creative Commons Attribution License that allows others to share the work with an acknowledgment of the work's authorship and initial publication in this journal.
Authors are able to enter into separate, additional contractual arrangements for the non-exclusive distribution of the journal's published version of the work (e.g., post it to an institutional repository or publish it in a book), with an acknowledgment of its initial publication in this journal.
Authors are permitted and encouraged to post their work online (e.g., in institutional repositories or on their website) prior to and during the submission process, as it can lead to productive exchanges, as well as earlier and greater citation of published work (See The Effect of Open Access).