Physiological Conditions of Broiler Chickens During Transportation with Vitamin Treatment and Distance Difference
Keywords:
Physiological response, Transportation, Broiler chickens, Vitamins, Hematology
Abstract
The physiological condition of broiler chickens during the transportation process has changed, presumably due to changes in environmental conditions. Changes in the environment, such as transport distance, density in the basket, vehicle speed and vibration, and heat stress during the transportation process, are thought to cause stress in chickens, disrupting the body's homeostatic and metabolic processes. The condition of stressed chickens harms the physiology of livestock, especially the biochemical components. It can result in decreased body weight, increased heart rate, respiration, and increased temperature, to the chickens' hematological status, which can be detrimental to breeders' income. Giving commercial vitamins containing vitamins A, D, E, K, B, and C, minerals, and amino acids is an alternative solution that can minimize stress levels in broiler chickens. This study aims to analyze the physiological condition of broiler chickens given vitamins and without vitamins with different mileage during transportation. The research method used was an experimental method using a randomized block design. This study used a sample of 48 broiler chickens with a weight range of 1.4 to 1.9 kg, treated with vitamins and without vitamins at a distance of 0 km (control), 30, 60, and 90 km. The parameters measured were heart rate, respiratory frequency, temperature, and body weight. Hematological tests measured were erythrocytes, hematocrit, hemoglobin, platelets, and leukocytes. The data were analyzed statistically. This research concludes that giving vitamins can stabilize the physiological condition of broiler chickens while being transported at a certain distance of 0 km (control), 30, 60, and 90 km. The treatment of giving vitamins at a distance of 90 km was no different from the control treatment. Evidenced by measurements of body weight with a value of 1.47 kg, heart rate of 262 times per minute, a stable respiratory rate at a value of 31 times per minute, and rectal temperature of 41 °C and hematological conditions of chicken blood such as erythrocytes of 2.60 c 106 mL, hematology 13.5 g/dL, hematocrit 33%, platelets 145 ´ 103 mL, and leukocytes 9 ´ 103 mL, are all in the normal range of broiler physiological conditions. Furthermore, it proves that giving vitamins can maintain the condition of the chicken's body from environmental temperature changes, transportation distance, transportation speed, and the density of transport baskets during transportation.
References
Abioja, Monsuru Oladimeji Et Al. 2012. Growth, Mineral Deposition, and Physiological Responses Of Broiler Chickens Offered Honey in Drinking Water During Hot-Dry Season. International Journal of Zoology 2012.
Bomy, Syahrio Tantalo, Siswanto. 1986. Minum Terhadap Respon Fisiologis Broiler The Effect of Turmeric and Ginger Through Drink. : 47–55.
Dewanti, A. C., E Santosa, P, And Khaira Nova. 2014. Pengaruh Berbagai Jenis Bahan Litter Terhadap Respon Fisiologis Broiler Fase Finisher di Closed House. Jurnal Ilmiah Peternakan Terpadu 2(3): 81–87.
Etches Rj, John TM, Verrinder Gibbins AM. 2008. Behavioral, physiological, neureondocrine and moleculer responses to heat stress. In daghir Nj, Editor Poulth Prod hot clim. 49-69.
Etim, Nseabasi N. 2014. Haematological Parameters and Factors Affecting Their Values. Agricultural Science 2(1): 37–47.
Gregory, N. G. 2010. How climatic change could affect meat quality. Food Research International. 43: 1886-1873.
Hoffbrand AV, Pettit JE. 1996. Kapita Selekta: Hematologi dalam Essential Haematology. Edisi ke-2. Buku Kedokteran EGC, Jakarta.
Kementerian Kesehatan Republik Indonesia. 2011. Pedoman Interpretasi Data Klinik.
Kementerian Kesehatan Republik Indonesia, Jakarta.
Mitchell, M. A., And P. J. Kettlewell. 1998. Physiological Stress and Welfare of Broiler Chickens in Transit: Solutions Not Problems!. Poultry Science 77(12): 1803–14.
Nurkholis, U. Suryadi dan F. Roni. 2018. Supplementation of Vitamin C and Transportation Distance to loss body weight of broiler. Jurnal Imu Peternakan Terapan. 2(1):27-33.ISSN 2579-9479.
Parwati, E. D., Ulupi, N., Afnan, R., Dan Satyaningtijas, A. S. 2017. Description of Broiler Chicken Erythrocytes with Different Transportation Travel Time and Levels of Znso4 Administration. Jurnal Ilmu Produksi dan Teknologi Hasil Peternakan 5(3): 101–5.
Samour J. 2015. Diagnostic Value of Hematology in Clinical Avian Medicine. Volume II. Harrison GJ, Lightfoot TL. Spix Publishing, Florida.
Saputro, Bayu, Purnama Edy Santosa, And Tintin Kurtini. 2014. "Pengaruh Cara Pemberian Vaksin Nd Live Pada Broiler Terhadap Titer Antibodi, Jumlah Sel Darah Merah Dan Sel Darah Putih. (The Influence Ways Live ND Vaccine In Broiler Antibody Titer, The Number of Red Blood Cells and White Blood Cell Count.)" Jurnal Ilmiah Peternakan Terpadu 2(3): 43–48.
Setiawan, H.,T. Rohayati, T., Nurhayatin., E. Herawati dan I. Hadist. 2019. The Effect Of Transport Distance On Depreciation And Percentage Weight Loss Of Super Native Chicken)." JANHUS: Jurnal Ilmu Peternakan Journal Of Animal Husbandry Science 3(2): 1.
Suprayogi A, G. Alaydrussaniz, A.Y. Ruhyana 2017. "Hematology, Heart Rate, Respiration Rate, And Body Temperature Values Of Lactating Dairy Cattle In Pangalengan." Jurnal Ilmu Pertanian Indonesia 22(2): 127–32.
Suryadi, U., U. Santosa dan U. Tanuwira. 2011. Transport Stress Elimination Strategy in Beef Cattle Using Organic Chromium. Unpad Press. Bandung.
Tamzil, Mohammad Hasil. 2014. Heat Stress On Poultry: Metabolism, Effects And Efforts To Overcome. Indonesian Bulletin Of Animal And Veterinary Sciences 24(2): 57–66.
Terlouw, E. M.C. Et Al. 2008. "Pre-Slaughter Conditions, Animal Stress And Welfare: Current Status And Possible Future Research." Animal 2(10): 1501–17.
Ulupi, N, T, And T T Ihwantoro. 2014. Gambaran Darah Ayam Kampung Dan Ayam Petelur Komersial Pada Kandang Terbuka Di Daerah Tropis. Blood Profile Of Kampung Chicken and Commercial Laying Hen in Open House of Tropical Zone. Jurnal Ilmu Produksi Dan Teknologi Hasil Peternakan 02(1): 219–23. Https://Jurnal.Ipb.Ac.Id/Index.Php/Ipthp/Article/View/15569.
Virden, W. S., And M. T. Kidd. 2009. Physiological Stress In Broilers: Ramifications on Nutrient Digestibility And Responses. Journal Of Applied Poultry Research 18(2): 338–47.
Wijayanti, R.P.2011. The Effect of Different House Temperatures on Broiler Performance in the Starter Period. Fakultas Peternakan. Universitas Brawijaya, Malang.
Yuniwarti, Enny Yusuf Wachidah. 2015. Profil Darah Ayam Setelah Vaksinasi AI dan Pemberian Berbagai Kadar VCO. Buletin Anatomi dan Fisiologi 23(1): 38–46.
Yuwanta T. 2004. Dasar Ternak Unggas. Kanisius. Yogyakarta.
Zurriyati, Y dan Dahono. 2013. Response of Physiology and Carcass Chicken Broiler Evaluation of Broiler to Cold Environment. Seminar Nasional Teknologi Peternakan dan Veteriner. Balai Pengkajian Teknologi Pertanian Riau : 586–91.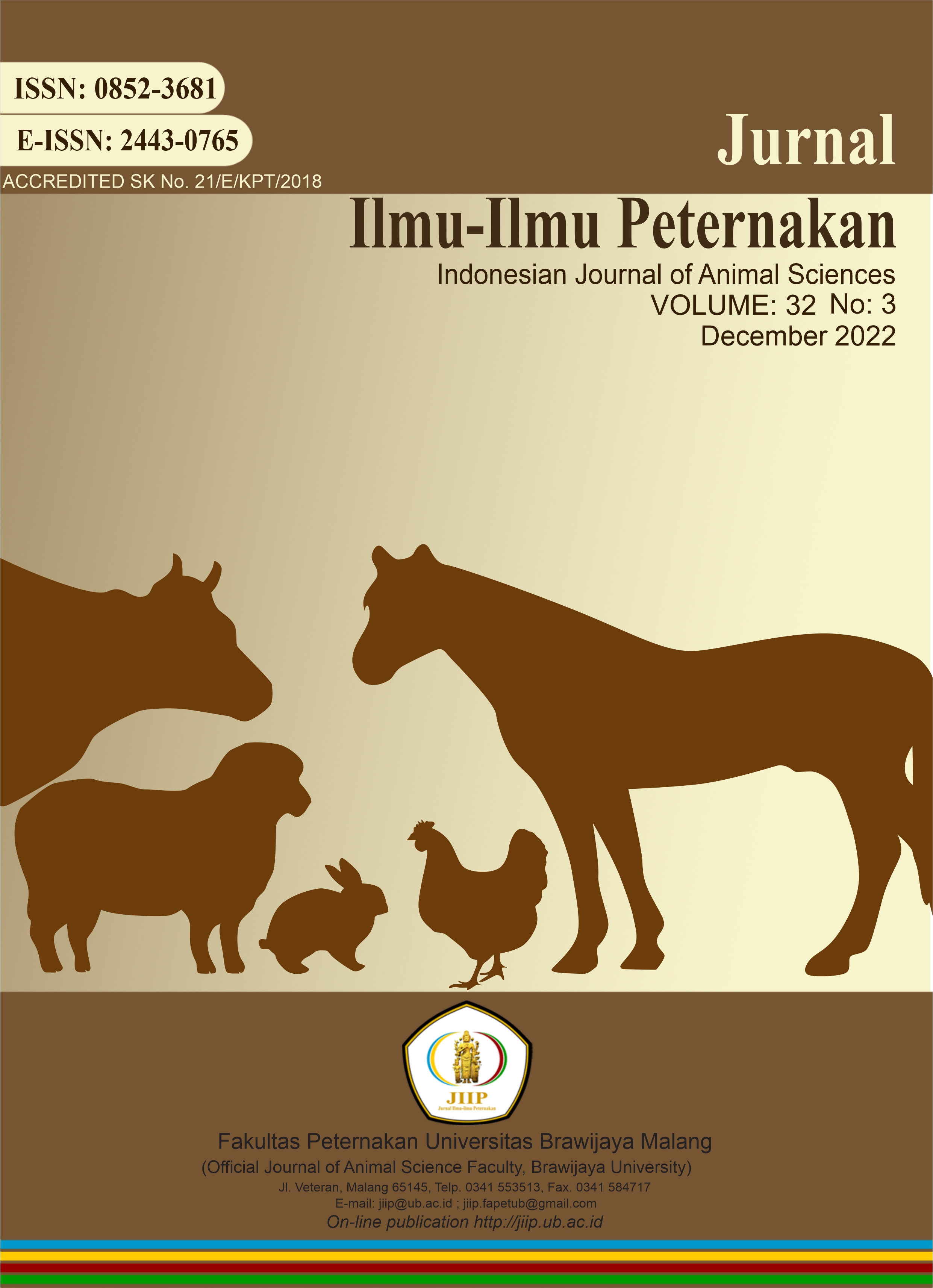 Downloads
License
Copyright (c) 2022 Dein Iftitah
This work is licensed under a Creative Commons Attribution-NonCommercial-ShareAlike 4.0 International License.
Authors who publish with this journal agree to the following terms:
Authors retain copyright and grant the journal right of first publication with the work simultaneously licensed under a Creative Commons Attribution License that allows others to share the work with an acknowledgment of the work's authorship and initial publication in this journal.
Authors are able to enter into separate, additional contractual arrangements for the non-exclusive distribution of the journal's published version of the work (e.g., post it to an institutional repository or publish it in a book), with an acknowledgment of its initial publication in this journal.
Authors are permitted and encouraged to post their work online (e.g., in institutional repositories or on their website) prior to and during the submission process, as it can lead to productive exchanges, as well as earlier and greater citation of published work (See The Effect of Open Access).