The success rate of artificial insemination in the crossesbred of male Bangkok Chickens and Pelung Hens
Keywords:
Bangkok chickens, Pelung chickens, Crosses, Artificial insemination
Abstract
Bangkok and Pelung chicken were chickens that are quite popular in Indonesia. One of the breeding programs was to increase meat production could be done through crossbreeding. This study aims to determine the success rate of artificial insemination of crossbreeds of male Bangkok chickens with Pelung hens. The research material used was four male Bangkok chickens aged one year and six female Pelung chickens. This study consisted of four phases: raising chickens, collecting Semen from Bangkok males, artificial insemination of Bangkok males with Pelung hen chickens, and hatching eggs from artificial insemination. The parameters observed in this study were egg weight, fertility, hatchability, DOC weight, and the correlation between egg weight and DOC weight. Data were analyzed using quantitative analysis. The research conducted has obtained an average egg weight of 46.21 grams, 66.67% fertility, 78.57% hatchability of DOC weight 36 grams, and a correlation between egg weight and DOC weight of 0.93%. The research concluded that the results of crossing Bangkok males with Pelung hens could increase hatching egg weight, hatchability, and DOC weight.
References
Ankanegara, A. A. 2011. Fertilitas telur ayam arab hasil inseminasi buatan menggunakan semen dari frekuensi penampunan berbeda. Fakultas Peternakan. Institut Pertanian Bogor, Bogor.
Darwati, S. 2000. Produktivitas ayam kampong, pelung, dan resiprokalnya. Bogor, Indonesia. Media Peternakan, 23 (2), 32-35.
Hidayat, C., dan Sopiyana, S. 2010. Potensi Ayam Sentul sebagai Plasma Nutfah Asli Ciamis Jawa Barat. Balai Penelitian Ternak. Bogor.
Iriyanti, N., Zuprizal, Yuwanta, T., dan Keman, S. 2007. Penggunaan vitamin E dalam pakan terhadap fertilitas, daya tetas dan bobot tetas telur ayam kampung. J. Anim. Prod, 9(1), 36−39.
Junaedi dan Husnaeni. 2020. Relationship of hatching egg weights with egg weight loss and doc weights of chickens from Bangkok male crossbreeding with pelung chicken broodstock. Chalaza journal of animal Husbandry, 5 (1), 35 - 39
Junaedi dan Husnaeni 2019. Kaji banding kualitas semen segar empat genetik ayam lokal indonesia (comparative study on the quality of fresh semen of four genetic local chicken in indonesia). Jurnal Veteriner Jurnal Veteriner.20 (3), 397-402
Junaedi dan Khaeruddin. 2018. Review the productivity of kampung chicken with Bangkok chicken on extensive system maintenance. Chalaza journal of animal Husbandry. 3 (1), 1 – 4
Kartasudjana, R. dan E. Suprijatna. 2006. Manajemen Ternak Unggas. Jakarta, Indonesia: Penebar Swadaya.
Kharayat N. S., Chaudhary G., R., Katiyar, R., Balmurugan, B., Patel, M., Uniyal, S., Raza, M., and Mishra, G. K. 2016. Significance of Artificial Insemination in Poultry. RRJoVST. 5(1),1-5.
Lasmini, A., dan Heriyati, E. 1992. Pengaruh Berat Telur terhadap Fertilitas, Daya Tetas dan Bobot Tetas DOC. Posiding Pengolahan dan Komunikasi Hasil-hasil Penelitian Unggas dan Aneka Ternak. Bogor, Indonesia: Balai Penelitian Ciawi.
Standar Nasional Indonesia Nomor 39262008. 2008. Telur Ayam Konsumsi. Jakarta, Indonesia: Badan Standarisasi Nasional.
Mansjoer, S.S., dan Martoyo, H. 1977. Produktivitas ayam kampung dan ayam silangan F1 (kampung x RIR) pada pemeliharaan dalam kandang. Laporan penelitian. Fakultas Peternakan IPB, Bogor.
Mansjoer, S. S., Sikar, S. H., dan Darwati, S. 1990. Pencarian galur murni Ayam Kampung, Ayam Pelung dan Ayam Bangkok, dalam usaha pelestarian sumber genetik Ayam di Indonesia. Institut Pertanian Bogor.
Mulyantini, N. G. A. 2010. Ilmu Manajemen Ternak Unggas. Yogyakarta. Indonesia: Gadjah Mada University Press.
Mahi, M. A., dan Muharlien. 2013. Pengeruh bentuk telur dan bobot telur terhadap jenis kelamin, bobot tetas dan lama menetas burung puyuh ( Coturnix. Coturnix Japonica ). J. Ternak Tropika. 14(1), 29-37.
Naï¬u, O.L., Rusdin, M., dan Slamet, A. 2014. Daya tetas dan lama menetas telur ayam tolaki pada mesin tetas dengan sumber panas yang berbeda. Jurnal Ilmu Teknologi Peternakan Tropis. 1(1), 32-44.
Nataamijaya, A. G. 2008. Karakteristik dan produktivitas ayam kedu hitam. Balai Besar Pengkajian dan Pengembangan Teknologi Pertanian Bogor. Bogor. Buletin Plasma Nutfah. 14. (2), 85-89.
Nataamijaya, A.G., Diwyanto, K., Haryono, Sumantri, E., dan Kusni, M. 1994. Karakteristik morfologis delapan varietas Ayam bukan ras (Buras) langka. Pros. Seminar Nasional Sains dan Teknologi Peternakan. Ciawi – Bogor, 25 – 26 Januari 1994. Balai Penelitian Ternak, Puslitbang Peternakan, Bogor. hlm. 605 – 614.
Nuryati, T., Sutarto, M. Khaim, dan P. S. Hardjosworo. 2000. Sukses Menetaskan Telur. Jakarta, Indonesia: Penebar Swadaya.
Purwanti, S., Kurnianto, E., Johari, S., Sutopo, dan Shinjo, A. 2009. Analisis partial diallel cross sifat kuantitatif dari tiga bangsa ayam. J. Indon Trop. 34(1), 54-67.
Pratiwi, R. N., Wahyuni, H. I., dan Murningsih. 2013. Pengaruh pemberian vitamin A dan E dalam ransum terhadap daya tetas dan daya hidup doc ayam kedu hitam yang dipelihara secara in situ. J Anim Agric. 2(1), 240-246.
Sastrodihardjo, S. 1996. Inseminasi Buatan Pada Ayam Buras. Leaflet, Cetakan Kedua Balitnak, Puslitbang Peternakan Bogor.
Sidadolog, J. H. P. 2007. Pemanfaatan dan Kegunaan Ayam Lokal Indonesia. Di dalam: Sulandari S, Zein MSA, Paryanti S, Sartika T, Sidadolog JHP, Astuti M, Widjastuti T, Sujana E, Darana S, Setiawan I editor. Keanekaragaman Sumber Daya Hayati Ayam Lokal Indonesia. Jakarta (ID): LIPI Pr.
Stepinska, U., dan Bakst, M. R. 2007. Fertility. Di dalam: Jamieson BGM (ed). Reproductive Biology and Phylogeny of Birds. 6A ed. USA: Science Publishers.
Wulandari, A. 2002. Pengaruh Indeks dan Bobot Telur Itik Tegal terhadap Daya Tetas, Kematian Embrio Dan Hasil Tetas. Purwokerto, Indonesia: Fakultas Peternakan Universitas Jenderal Soedirman.
Zainuddin, D., dan Jannah, I. R. 2014. Suplementasi asam amino lisin dalam ransum basal untuk ayam kampung petelur terhadap bobot telur, indeks telur, daya tunas dan daya tetas serta korelasinya. Jurnal Ilmu Ternak dan Veteriner, 19(3),142-148.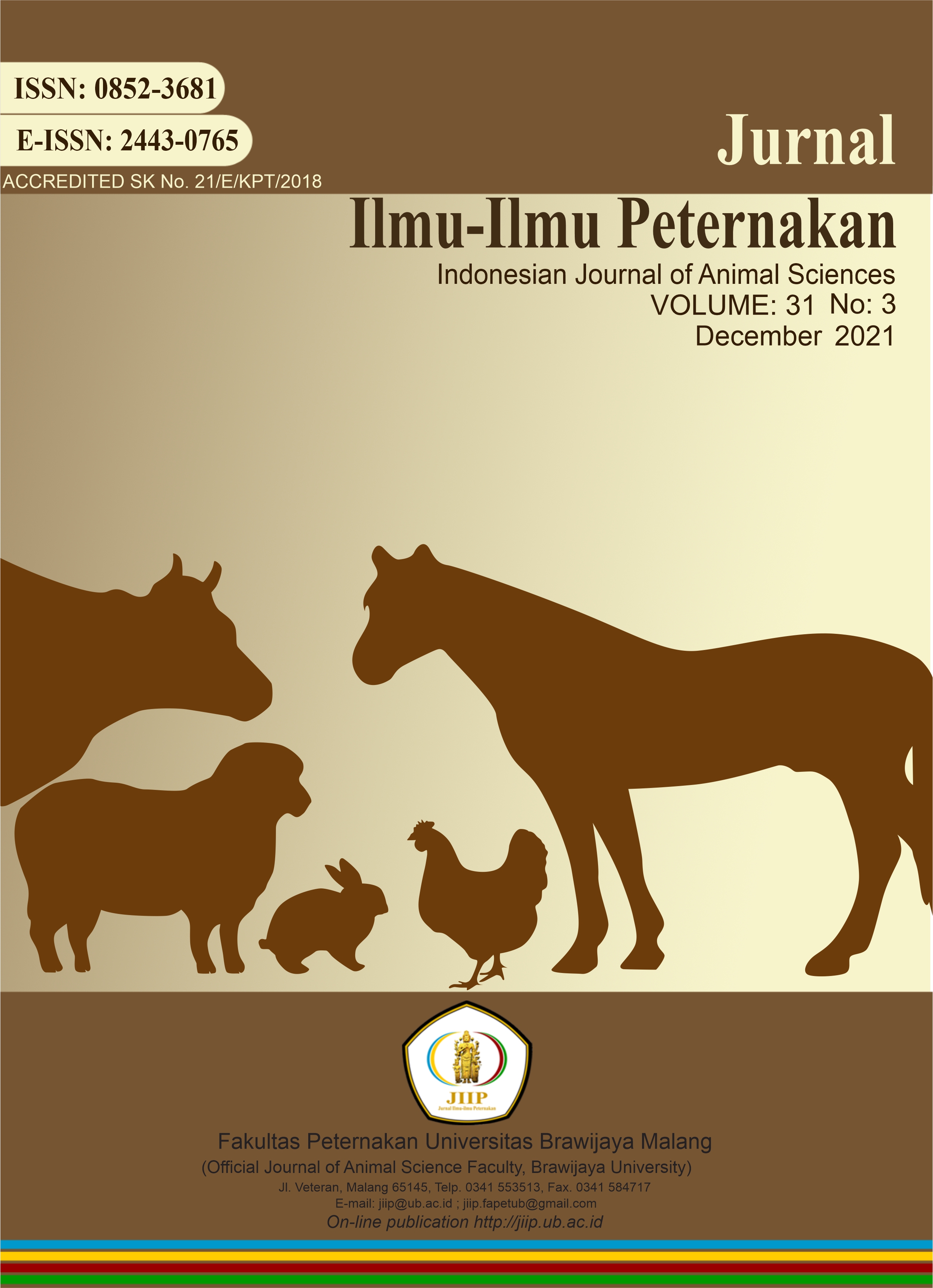 Downloads
License
Authors who publish with this journal agree to the following terms:
Authors retain copyright and grant the journal right of first publication with the work simultaneously licensed under a Creative Commons Attribution License that allows others to share the work with an acknowledgment of the work's authorship and initial publication in this journal.
Authors are able to enter into separate, additional contractual arrangements for the non-exclusive distribution of the journal's published version of the work (e.g., post it to an institutional repository or publish it in a book), with an acknowledgment of its initial publication in this journal.
Authors are permitted and encouraged to post their work online (e.g., in institutional repositories or on their website) prior to and during the submission process, as it can lead to productive exchanges, as well as earlier and greater citation of published work (See The Effect of Open Access).