Isolasi dan identifikasi Staphylococcus Epidermidis pada susu sapi PFH penderita mastitis subklinis di Wukirsari, Cangkringan, Sleman, DIY
Keywords:
mastitis subklinis, Californian Mastitis Test, Staphylococcus epidermidis
Abstract
Mastitis is an inflammation of the mammary gland, can be occured clinically or subclinically. One of the causes of mastitis is Staphylococcus epidermidis. This study was aimed to isolate and identify Staphylococcus epidermidis in subclinical mastitis PFH dairy cows in Wukirsari, Cangkringan, Sleman, DIY. Sixteen milk samples were tested with a Californian Mastitis Test (CMT), followed by inoculation in Brain Heart Infusion (BHI), planted on a blood agar plate plate (PAD) and Mac Conkey Agar (MCA) for 24 hours at 370C. The growing colonies were then grown on sugar sugar and nutrient agar (NA) media. Gram staining, catalase test, coagulase test and DNase test as bacteria confirmation.CMT test results showed 15 (93.75%) out of 16 positive milk samples suffered from subclinical mastitis. Results of isolation showed 1 (6.66%)of 16 positive samples infected with Staphylococcus epidermidis.The results of this study indicate that incidence of subclinical mastitis in the study area showed a high rate and is likely to be caused by inadequate management practices and milking procedures. The high incidence of subclinical mastitis is probably caused by other bacteria because only 6.66% is caused by Staphylococcus epidermidis.
References
Aprilia, P.R., Santoso, S.A.B., dan Har-janti, D.W. 2016.Jumlah Staphylococcus aureus dan kan-dungannutriensusuakibat dip-ping putingmenggunakan ekstrak daun belimbing wuluh (Averrhoa bilimbi Linn) pada sapiperahpenderita mastitis subklinis. Jurnal Ilmu-Ilmu Pe-ternakan, 26(1), 43-51.
Azevedo, C., Pacheco, D., Soares, L., Romão, R., Moitoso, M., Mal-donado, J., Guix, R., andSimões, J. 2016. Prevalence of conta-gious and environmental masti-tis-causing bacteria in bulk tank milk and its relationships with milking practices of dairy cattle herds in São Miguel Island (Azores). Trop Anim Health Prod, 48(2), 451-459.
Barrett, D.J., Healy, A.M., Leonard, F.C., and Doherty, M.L. 2005. Prevalence of pathogens causing subclinical mastitis in 15 dairy herds in the Republic of Ireland. Ir Vet J., 58(6), 333–337.
Bava, L., Zucali, M., Brasca, M., Zani-ni, L., and Sandrucci, A. 2009. Efficiency of cleaning proce-dure of milking equipment and bacterial quality of milk. Italian Journal of Animal Science, 8(2), 387-389.
Bjork, B., Båge, R., Kanyima, B.M., André, S., Nassuna-Musoke, M.G., Owiny, D.O., and Persson, Y. 2014. Characterization of co-agulase negative staphylococci from cases of subclinical masti-tis in dairy cattle in Kampala, Uganda. Ir Vet J, 67(12), 1-3.
Bochniarz, M., Wawron, W., and Szczubiał, M. 2013. Coagulase-negative staphylococci (CNS) as an aetiological factor of mastitis in cows. Pol J Vet Sci., 16(3), 487-92.
Forbes, B.A., Sahm, D.F., and Weissfeld, A.S. 2007. Diagnostic Microbiology. Ed. 12. Missouri: Mosby Elsevier. 223-258
Halasa, T., Huijps, K., Osteras, O., and Hogeveen, H. 2007. Economic effects of bovine mastitis and mastitis management: A review. Vet. Q., 29(1), 18-31.
Hendrix, C.M., and Sirois, M. 2002. Laboratory Procedures for Veterinary Technicians. 5th Edition. Mosby, Elsevier.
Hirst, R. G., Nurhadi, A., Rompis, A., Wins, J., Supartono, and Setadi, Y. 1985. The detection subclini-cal mastitis in the tropic and the assessment of associated milk production losses. Proceedings of the third AAAP animal sci-ence congress. Seoul, Korea. (I), 498- 500
Islam, M.A., Islam, M.Z., Islam, M.A., Rahman, M.S., and Islam, M.T. 2011. Prevalence of subclinical mastitis in dairy cows in select-ed areas of Bangladesh. Bangla-desh J Vet Med., 9(1), 73-78.
Kloos, W. 1980. Natural populations of the genus Staphylococcus. An-nual review of microbiology, 34, 559—592. https://doi.org/10.1146/annurev.mi.34.100180.003015
Kossaibati, M. A., and Esslemont, R. J. 1997. The costs of production diseases in dairy herds in Eng-land. The Veterinary Journal, 154(1), 41-51.
Kudinha, T., and Simango, C. 2002. Prevalence of coagulase-negative staphylococci in bo-vine mastitis in Zimbabwe. Journal of the South African Veterinary Association, 73(2), 62-65.
Kurniawan, I., Sarwiyono, dan Sur-jowardojo, P. 2013.Pengaruh teat dipping menggunakan dekok daun kersen (Muntingia-calabura L.) terhadaptingkat-kejadian mastitis. Jurnal Ilmu-Ilmu Peternakan, 23(3), 27-31.
Marshall, R.T., Edmondson, J. E., and Steevens, B. 1993. Using the California Mastitis Test. https://extension2.missouri.edu/g3653
Moroni, P., Pisoni, G., Antonini, M., Ruffo, G., Carli, S., Varisco, G., and Boettcher, P. 2005. Subclin-ical Mastitis and Antimicrobial Susceptibility of Staphylococcus caprae and Staphylococcus epi-dermidis Isolated from Two Ital-ian Goat Herds. J. Dairy Sci, 88(5), 1694-1704.
Nurhayati, I.S., dan Martindah, E. 2015. Pengendalian Mastitis Subklinis melalui Pemberian Antibiotik Saat Periode Kering pada Sapi Perah. Wartazoa, 25(2): 065-074.
Poeloengan, M. 2009. Aktivitas air perasan dan ekstrak etanol daun encok terhadap bakteri yang diisolasidari sapi mastitis subklinis. Dalam: Seminar Na-sional Teknologi Peternakan dan Veteriner 2009. Balai Besar Penelitian Veteriner. Bogor. 300-305.
Quinn, P.J., Carter, M.E., Markey, B.K., and Carter, G.R. 2002.Clinical Veterinary Microbiology. Vir-ginia, USA: Harcourt Publish-ers, 331-344.
Shahid, M., Sabir, N., Ahmed, I., Khan, R.W., Irshad, M., Rizwan, M., and Ahmed, S. 2011. Diagnosis of Subclinical Mastitis In Bo-vine Using Conventional Meth-ods And Electronic Detector. ARPN Journal of Agricultural and Biological Science, 6(11), 18-22.
Sharma, N., Pandey, V., andSudhan, N.A. 2010. Comparison of some indirect screening test for detec-tion of subclinical mastitis in dairy cows. Bulgarian Journal of Veterinary Medicine, 13(2), 98-103.
Shittu, A., Abdullahi, J., Jibril, A., Mo-hammed, A. A., & Fasina, F. O. 2012. Sub-clinical mastitis and associated risk factors on lactat-ing cows in the Savannah Re-gion of Nigeria. BMC Veteri-nary Research, 8(1), 134.
Smith, B.P. 2002. Large Animal Inter-nal Medicine. Edisi ke 3. St. Louis, Missouri: Mosby, 1025-1037.
Supar. 1997. Mastitis subklinis pada sapiperah di Indonesia: Masalah dan pendekatannya. Wartazoa, 6(2), 48-52.
Supar, dan Ariyanti, T. 2008. Kajian pengendalian mastitis subklinis pada sapiperah. Dalam: Diwyanto K, Wina E, Priyanti A, Natalia L, Herawati T, Pur-wandaya B, penyunting. Prosid-ing Lokakarya Nasional Prospek Industri Sapi Perah Menuju Perdagangan Bebas 2020. Jakar-ta, 21 April 2008. Bogor (Indo-nesia): Puslitbangnak. 360-366.
Thorberg, B.M., Kuhn, I., Aarestrup, F.M. Brandstrom, B., Jonsson, P., andDanielsson-Tham, M.L. 2006.APheno- and genotyping of Staphylococcus epidermidis isolated from bovine milk and human skin. Veterinary Micro-biology, 115(1-3), 163-172.
Thorberg, B.M. 2008. Coagulase-Negative Staphylococci in Bo-vine Sub-Clinical Mastitis. Thesis. Department of Biomedi-cal Sciences and Veterinary Public Health Swedish Universi-ty of Agricultural Sciences.
Thorberg, B.M., Danielsson-Tham, M.L., Emanuelson, U., and Wal-ler, K. P. 2009. Bovine subclini-cal mastitis caused by different types of coagulase-negative staphylococci. J. Dairy Sci, 92(10), 4962-4970.
Varshney, J.P., and Naresh, R. 2004. Evaluation of homeopathic complex in the clinical man-agement of udder diseases of riverine buffaloes. Homeopathy, 93(1), 17- 20.
Watts, J.L., and Owens, W.E. 1989. Prevalence of staphylococcal species in four dairy herds. Res. Vet. Sci, 46 (1), 1-4.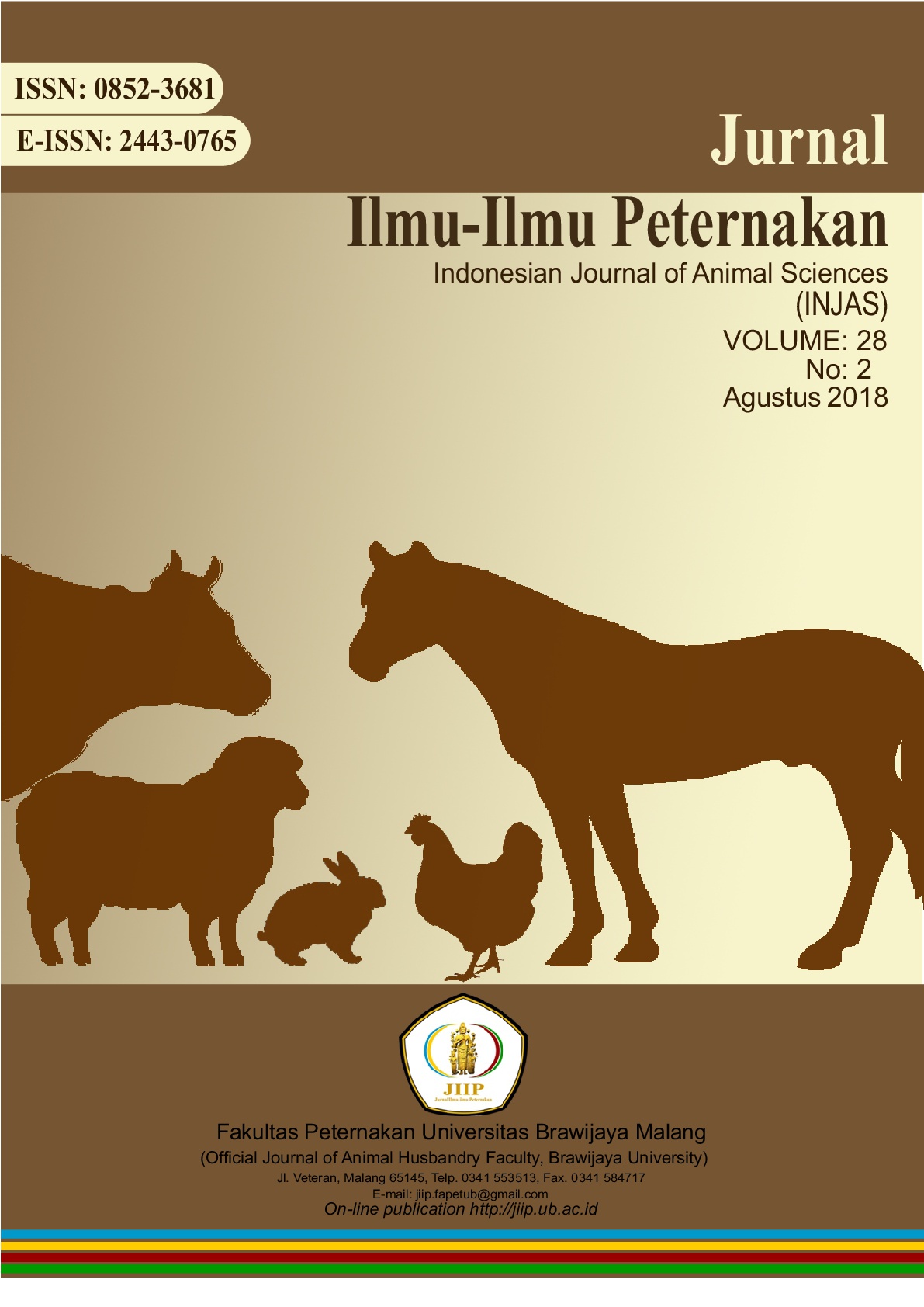 Downloads
License
Authors who publish with this journal agree to the following terms:
Authors retain copyright and grant the journal right of first publication with the work simultaneously licensed under a Creative Commons Attribution License that allows others to share the work with an acknowledgment of the work's authorship and initial publication in this journal.
Authors are able to enter into separate, additional contractual arrangements for the non-exclusive distribution of the journal's published version of the work (e.g., post it to an institutional repository or publish it in a book), with an acknowledgment of its initial publication in this journal.
Authors are permitted and encouraged to post their work online (e.g., in institutional repositories or on their website) prior to and during the submission process, as it can lead to productive exchanges, as well as earlier and greater citation of published work (See The Effect of Open Access).