Analisis parameter pertumbuhan itik Magelang generasi ketiga di Balai Pembibitan Ternak Non Ruminansia Satuan Kerja itik Banyubiru
Keywords:
Magelang duck, growth models, R2, AIC, inflection point
Abstract
The aim of this research was to determine growth curve models of the third generation Magelang ducks using Gompertz and Logistic Growth Model. Individual body weight was obtained by weighing at every three days from 0 to 60 days.Growth parameters were analyzed by non linear Gompertz and Logistic models using SAS v6.12 program. The results showed that the growth curve models had different levels of accuracy, regression models equation of Gompertz  at male wasY=2031.047 exp(-3.475 exp-0.03), female was Y=1711.909 exp(-3.374 exp-0.04), whereas regression models equation of Logistic at male wasY=1525.168/(1+14.996 exp-0.07), and female was Y=1387.704/(1+13.893 exp-0.08).Growth rate constant (k) of Gompertz model was lower than Logistic model, whereas Gompertz's asymptotic mature weight (A) was higher than Logistic model. Gompertz shows smaller number of R2 dan AIC it was0.9997 and110.227, whilst Logistic 0.9987 and143.917.Inflection point for Gompertz model at male, female and unsexducks wereindicated by age (Yi) and weight (ti) at inflection point, there were : Yi = 932.408 g, ti = 35.798 day; Yi = 785.899g, ti = 30.586 day; and Yi= 856.572 g, ti = 33.177 day, respectivelywhilst Logistic was Yi = 762.584g, ti = 36.470 day; Yi = 689.352 g, ti = 33.209 day; and Yi= 726.014 g, ti = 34.890 day, respectively. In conclusing, inflection point and calibration of R2and AIC, conluded that Gompertz models was greater to represent growth patterns of third generation Magelang ducksrather than Logistic models.
References
Anindita, A., N. W. S. Wardhani dan H. Kusdarwati. 2014. Pemilihan model Stannard dan Richards pada pertumbuhan bobot itik. J. Mahasiswa Statistik. 2 (6): 473-476.
Fathurahman, M. 2009. Pemilihan model regresi terbaik menggunakan metode Akaike's Information Criterion dan Schwarz Information Criterion. J. Informatika Mulawarman. 4 (3) : 37 – 41.
Kementrian Pertanian. 2013. Keputusan Menteri Pertanian Nomor 701/Kpts/PD.410/2/2013 tentang Penetapan Rumpun Itik Magelang. Kementrian Pertanian, Jakarta.
Kurnianto, E., A. Shinjo dan D. Suga. 1997. Comparison of the three growth curve models for describing the growth patterns in wild and laboratory mice. J. Vet. Epidemol. 1 (2) : 49-55.
Kurnianto, E., A. Shinjo dan D. Suga. 1998. Analysis of growth in intersubspesific crossing of mice using gompertz model. AJAS. 11 (1) : 84-88.
Magfiroh, K., I. Mangisah dan V. D. Y. B. Ismadi. 2012. Pengaruh penambahan sari jeruk nipis (Citrus aurantifolia) dalam ransum terhadap kecernaan protein kasar dan retensi nitrogen pada itik magelang jantan. J. Anim. Agric. 1 (1) : 669 - 683.
Mahfudz. L.D, S. Kismiati dan T.A. Sarjana. 2005. Fenotipik dari Itik Magelang yang Produktif. Prosiding Seminar Nasional Teknologi Peternakan dan Veteriner. Bogor, 12-13 September 2005. Hal 779-785.
Putri, F. A., L. A. Soehono dan N. W. S. Wardhani. 2014. Menduga pertumbuhan bobot kelinci (Oryctolagus cuniculus) dengan model summacher dan gompertz. J. Mahasiswa Statistik. 2 (1) : 57-60.
Salman, L.B., C. Sumantri, R.R. Noor, A. Saefuddin dan C. Talib. 2015. Kurva pertumbuhan sapi Friesian Holstein dari lahir sampai siap kawin berdasarkan tingkat kelahiran. J. Vet. 16 (1) : 96 - 10.
Setioko, A. R., L. H. Prasetyo dan B. Brahmantiyo. 2014. Karakteristik Produksi Telur Itik Bali sebagai Sumber Plasma Nutfah Ternak. JITV. 19 (3) : 1-4.
Susanti, T. Dan L. H. Prasetyo. 2007. Model regresi pertumbuhan dua generasi populasi ternak terseleksi itik Alabio. JITV. 12 (4) : 300-304.
Syaifudin, Rukmiasih dan R. Afnan. 2015. Performa itik Alabio jantan dan betina berdasarkan pengelompokan bobot tetas. J. Ilmu Produksi dan Teknologi Hasil Peternakan. 3 (2) : 83 – 88.
Tazkia, R. dan A. Anggraeni. 2009. Pola dan Estimasi Kurva Pertumbuhan Sapi Friesian Holstein di Wilayah Kerja Bagian Timur KPSBU Lembang. Prosiding Seminar Nasional Teknologi Peternakan dan Veteriner. Bogor, 13-14 Agustus 2009. Hal 121-135.
Wardhani, W.S. dan E.P.F. Setiarini. 2010. Menduga pertumbuhan bobot badan ayam broiler strain Lohmann dengan pedekatan model logistic dan gompertz. J. Vet. Med. 3 (2):105-108.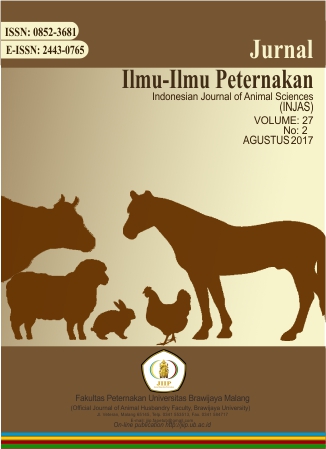 Downloads
License
Authors who publish with this journal agree to the following terms:
Authors retain copyright and grant the journal right of first publication with the work simultaneously licensed under a Creative Commons Attribution License that allows others to share the work with an acknowledgment of the work's authorship and initial publication in this journal.
Authors are able to enter into separate, additional contractual arrangements for the non-exclusive distribution of the journal's published version of the work (e.g., post it to an institutional repository or publish it in a book), with an acknowledgment of its initial publication in this journal.
Authors are permitted and encouraged to post their work online (e.g., in institutional repositories or on their website) prior to and during the submission process, as it can lead to productive exchanges, as well as earlier and greater citation of published work (See The Effect of Open Access).