The Relationship of Estrous Character with Conception Rate in Madura Cattle
Keywords:
Artificial insemination, Conception rate, Non-return rate, Estrous character, Pregnancy rate
Abstract
This study aimed to determine the relationship between estrous characteristics with the success of AI in Madura cattle. A total of 50 female Madura cattle were used in this research. The estrus quality was observed, including vulva temperature, vulva swelling, vulva color, cervical pH, and cervical mucus. The parameters were NRR-1, NRR-2, Pregnancy Rate, and conception rate. The results showed that Madura cattle with the quality of estrus in the uneven red vulva color category showed better results than red vulva color at NRR-1, NRR-2, CR, and PR values, 100%, 93,33%, 93,33%, and 93,33% respectively. Abundant cervical mucus showed better results than the moderate mucus on the NRR-1, NRR-2, CR, and PR values, which were 100%, 87,5%, 75%, and 75%, respectively. Then a vulva temperature of 37,0-37,9ºC showed better results than a vulva temperature >38ºC in the NRR-1, CR, and PR values, namely 92,12%, 64,71%, and 70,59. Furthermore, the pH condition of cervical mucus with a pH value of 7 showed better results than cervical mucus with a pH of 8 at NRR-1, NRR-2, CR, and PR, 94,12%, 94,12%, 70,59%, and 76,47%. In the very swollen vulva category, the results were better than slightly swollen at the NRR-1 value of 100%. This study concludes that the characteristic uneven color of the vulva, the vulva temperature is 37,0-37,9, the abundant cervical mucus, cervical pH 7, and a very swollen vulva give a high percentage of the success of AI.
References
Abidin, Z., Y.S. Odho dan B. Sutiyono. 2012. Penampilan Berahi Sapi Jawa Berdasarkan Poel 1, Poel 2, dan Poel 3. Animal Agriculture Journal. 1(2): 86-92.
Anisa, E., Y. S. Ondho dan D. Samsudewa. 2017. Pengaruh Body Condition Score (BCS) Berbeda terhadap Intensitas Birahi Sapi Induk Simmental Peranakan Ongole (SIMPO). Jurnal Sains Peternaka. 12(2):133-141.
Annashru, F.A., M. Nur Ihsan, A.P.A. Yekti, dkk. 2017. Pengaruh perbedaan waktu inseminasi buatan terhadap keberhasilan kebuntingan Sapi Brahman Cross. Jurnal Ilmu-Ilmu Peternakan. 27(3):17-23.
Ansori, A.I., Kuswati, A.N. Huda, dkk. 2021. Tingkat Keberhasilan Inseminasi Buatan Double Dosis Pada Sapi Persilangan Ongole dengan Kualitas Berahi Yang Berbeda. Jurnal Ilmiah Peternakan. 2(2): 36-46.
Baliarti, E., Panjono., Widi, dkk. 2019. Tingkah Laku Seksual Pejantan dan Induk Sapi Peranakan Ongole dengan Sistem Perkandangan Koloni Terbatas. Prosiding Seminar Nasional Teknologi Peternakan dan Veteriner 1(1) :65-73.
Fernanda, M.T., T. Susilawati dan N. Isnaini. 2016. Keberhasilan AI Menggunakan Semen Beku Hasil Sexing dengan Metode Sentrifugasi Gradien Densitas Percoll(SGDP) pada Sapi Peranakan Ongole (PO). Jurnal Ilmu-Ilmu Peternakan. 24(3):1-8.
Hartatik, T., D. A. Mahardika, T. S. M. Widi, dkk. 2009. Karakteristik dan Kinerja Indukan Sapi Silangan Limousin Madura dan Madura di Kabupaten Sumenep dan Pamekasan. Buletin Peternakan 33(3): 143-147.
Hoesni, F. 2015. Pengaruh Keberhasilan Inseminasi Buatan Antara Sapi Bali Dara dengan Sapi Bali Yang Pernah Beranak di Kecamatan Pamayung Kabupaten Batanghari. Jurnal Ilmiah Universitas Batanghari Jambi. 15(4):20-27.
Indira, P.N., Kustono and Ismaya. 2014. The Profile Of Vaginal Temperature and Cytology Of Vaginal Smear In Bali Catle During Estrus Cycle Phase. Journal Indonesian Tropical Animal Agriculture. 39(3): 175-179.
Irfan, S. Wahjuningsih dan T. Susilawati. 2017. Pengaruh Karakteristik Lendir Serviks Sebelum Inseminasi Buatan (AI) Terhadap Keberhasilan Kebuntingan Sapi Komposit. Jurnal Ternak Tropika. 18(1): 24-28.
Kusuma, H.R., Kuswati., A.N. Huda., dkk. 2021. Tingkat Keberhasilan Inseminasi Buatan Double Dosis (Jam Ke-2 dan Ke-8) terhadap Kualitas Berahi pada Sapi Persilangan Ongole. Jurnal Ilmu Ternak Universitas Padjajaran. 21(2): 94-101.
Kusumawati, E.D., S. Rahadi, F. Sudianata, dkk. 2018. Pengaruh Ketepatan Waktu Inseminasi Buatan Terhadap Tingkat Keberhasilan Kebuntingan di Kecamatan Gedangan Kabupaten Malang Jawa Timur. Jurnal Ilmu Tropikal. 5(2): 58-62.
Lim, H. J., J. K. Son, H. B. Yoon. et al. 2014. Physical Properties of Estrus Mucus in Relation to Conception Rates in Dairy Cattle. Journal of Embryo Transfer. 29(2): 157-161.
Manggalatung, A.B. 2017. Penanganan Kasus Hipofungsi Ovari pada Sapi Friesian Holstein di Kabupaten Enrekang. Jurnal Peternakan. 1(1): 1-8.
Purwasih, S., E. T. Setiani dan D. Samsudewa. 2014. The Effect Of Anredera cordifolia (Ten.) Stennis Supplementation On Uterine Involution Proces Evaluated By Oestrus Post Partum Behavior And Ferning. Journal Indonesian Tropical Animal Agriculture. 39(1): 17-22
Pusat Data dan Informasi Kementerian Pertanian. 2020. Produksi Daging dan Konsumsi Daging Di Indonesia. Jakarta: Kementerian Pertanian. Diakses pada 13 Juli 2021.
Puspitasari, I. F., N. Isnaini, A. P. A. Yekt, dkk. 2018. Tampilan Reproduksi Sapi Rambon Betina pada Paritas yang Berbeda. Journal of Tropical Animal Production. 19(2): 80-86.
Rizki, A., P. Srianto, E. Suprihati, dkk. 2019. Pengaruh pH Lendir Mukosa Vagina Saat Birahi Terhadap Persentase Kebuntingan (Conception Rate) Pada Sapi Perah di KUD Tani Wilis Kabupaten Tulungagung dan KSU Tunas Setia Baru Kabupaten Pasuruan. Ovozoa. 8(2): 154-158.
Ramli, M., T.N. Siregar., C.N. Thasmi., dkk. 2016. Hubungan Antara Intensitas Estrus dengan Konsentrasi Estradiol Pada Sapi Aceh Pada Saat Inseminasi. Jurnal medika veterinaria. 10(1): 27-30.
Sakatani, M., M. Takahashi and N. Takanouchi. 2016. The Efficiency of Vaginal Temperature Measurement for Detection of Estrus in Japanese Black Cows. Journal of Reproduction and Development. 62(2): 201-207.
Saputra, D., Sumartono dan N. Humaidah. 2017. Hubungan Kualitas Estrus Berdasarkan Profil Sitologi Swab Vagina Dan Gejala Estrus Terhadap Keberhasilan AI Intracervical Kambing Peranakan Etawa. Dinamika Rekasatwa. 2(2): 1-9.
Suartini., Trilaksana., dan Pemanyun. 2013. Kadar estrogen dan munculnya estrus setelah pemberian Buserelin(Agonis GnRH) pada sapi Bali yang mengalami anestrus postpartum akAIat hipofungsi ovarium. Jurnal Ilmu dan Kesehatan Hewan. 1(1): 1-9
Susilawati, T. 2019. Pedoman Inseminasi Buatan Pada Ternak. Malang: UB Press
Susilawati, T. 2011. Tingkat Keberhasilan Inseminasi Buatan dengan Kualitas dan Deposisi Semen yang Berbeda pada Sapi Peranakan Ongole. J. Ternak Tropika. 12 (2): 15-24.
Udin, Z., F. Rahim., Hendri dan Y. Yellitta. 2016. Waktu dan Kemerahan Vulva Saat Inseminasi Buatan Merupakan Faktor Penentu Angka Kebuntingan Sapi di Sumatera Barat. Jurnal Veteriner. 17(2): 501-509.
Wiranto, Kuswati, R. Prafitri, dkk. 2020. Tingkat Keberhasilan Inseminasi Buatan Menggunakan Semen Beku Sexing pada Bangsa Sapi yang Berbeda. Jurnal Agripet. 20(1): 17-21.
Ververs, M., M. Z. Langhout, J. Govaere and A. V. Soom. 2015. Features of Reproduction and Assited Reproduction in TheWhite (Ceretotherium Simum) and Black (Diceros Bicornis) Rhinoceros. Journal Vlaamse Veterinary. 5(84): 174-180.
Yekti, A.P.A., T. Susilawati, M.N. Ihsan, dkk. 2017. Fisiologi Reproduksi Ternak. Malang: UB Press.
Yekti, A.P.A., J. Harsa, M. Luthfi, dkk. 2018. Kualitas Semen dengan Berbagai Formulasi Pengencer Dasar Air Kelapa Hijau Selama Simpan Dingin pada Sapi Madura. Jurnal Ilmu dan Teknologi Peternakan Trops. 5(3):37-44.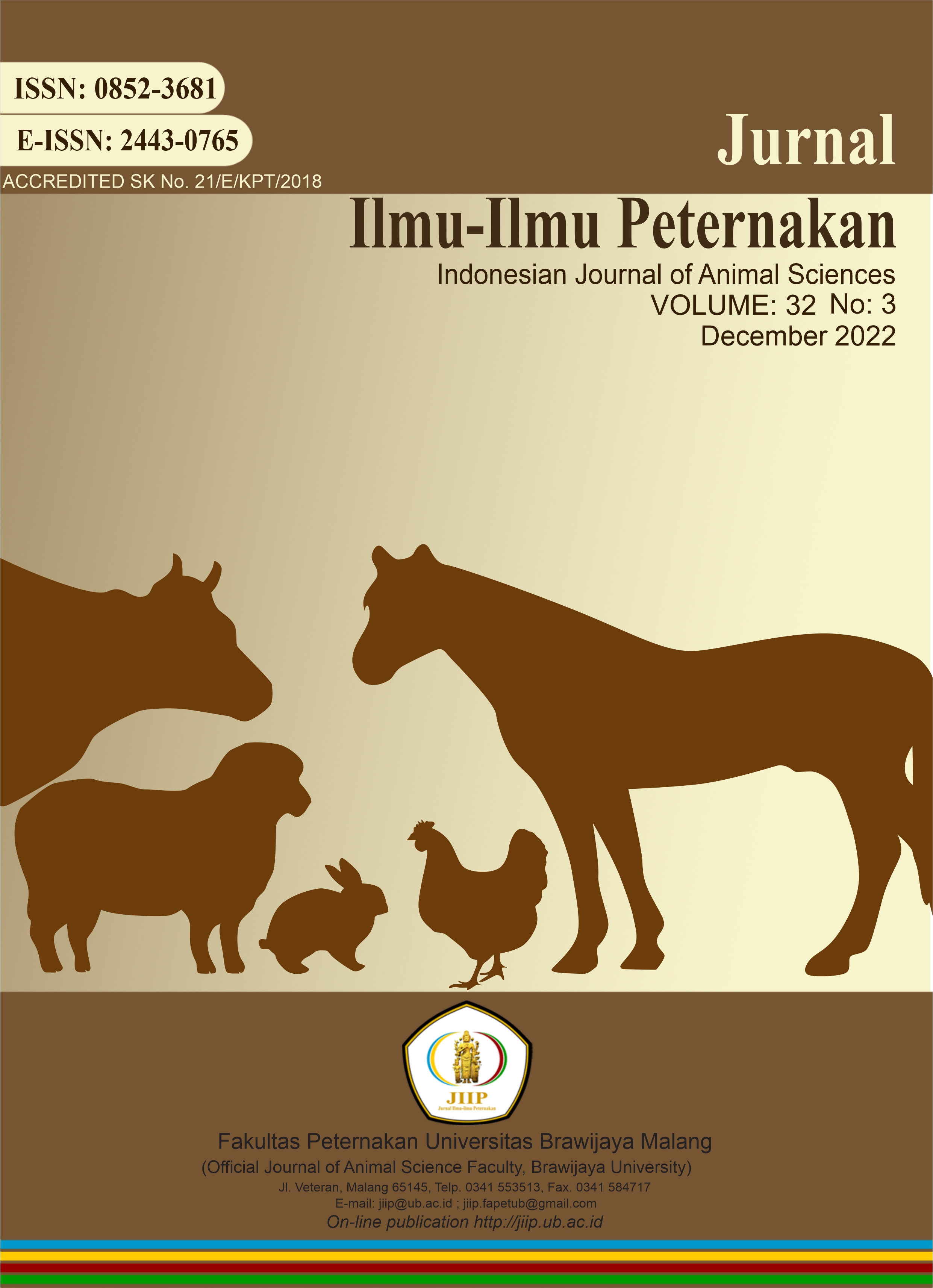 Downloads
License
Copyright (c) 2022 Kuswati Kuswati
This work is licensed under a Creative Commons Attribution-NonCommercial-ShareAlike 4.0 International License.
Authors who publish with this journal agree to the following terms:
Authors retain copyright and grant the journal right of first publication with the work simultaneously licensed under a Creative Commons Attribution License that allows others to share the work with an acknowledgment of the work's authorship and initial publication in this journal.
Authors are able to enter into separate, additional contractual arrangements for the non-exclusive distribution of the journal's published version of the work (e.g., post it to an institutional repository or publish it in a book), with an acknowledgment of its initial publication in this journal.
Authors are permitted and encouraged to post their work online (e.g., in institutional repositories or on their website) prior to and during the submission process, as it can lead to productive exchanges, as well as earlier and greater citation of published work (See The Effect of Open Access).