Comparison of the Morphometric Traits and Body Weight of Pure Kampung Chicken with Kampung-Bangkok Crosses Chicken
Keywords:
Kampung Chickens, Crossbreeding, Morphometric, Body weight
Abstract
Efforts that can be made to improve the performance of native chickens are by crossing them with Bangkok chickens. The results of crosses between Kampung chickens and Bangkok chickens are expected to pass down good growth genes. This study used 66 chickens consisting of 33 pure Kampung chickens and 33 chickens from the Kampung x Bangkok cross-reared from DOC until the age of eight weeks. Every week body weights and measurements of body parts are carried out. This study was analyzed using the T-test to compare the performance of chickens from the Kampung x Bangkok cross with native chickens. Body weights between native chickens and Kampung x Bangkok crosses were significantly different at the age of DOC (0 weeks) and the age of 3 to 8 weeks. Body length and height of free-range chickens with Kampung x Bangkok crosses were different at the age of DOC up to 2 weeks. Chest width was different between native chickens and Kampung x Bangkok crosses at DOC to 1 week of age. The Shank length and shank circumference of native chickens with Kampung x Bangkok crosses were different at all ages. The tibia length of free-range chickens with the Kampung x Bangkok cross was different at DOC up to 6 weeks of age. The tibia circumference of free-range chickens with Kampung x Bangkok crosses differed from DOC to 4 weeks of age.
References
Abdel-Lattif, F.H.A. (2019). The linear association between live body weight and some body measurements in some chicken strains. Plant Arch, 19(1), 595–599.
Al-Shemery, N.J. (2014). Comparative different types of imported chicken carcasses with local frozen chicken carcasses in the physical characteristics and bacterial testes and knowledge better of species and the extent of compliance with the standards conditions. Euphrates J Agric Sci, 6(1), 90- 97.
Assefa, H., & Melesse, A. (2018). Morphological and morphometric characterization of indigenous chicken populations in Sheka zone, south western Ethiopia. Poult Fish Wildl Sci, 6, 200. https://doi.org/ 10.4172/2375-446X.1000200
Bright, J.A., Marugán-Lobón, J., Cobb, S.N., & Rayfield, E.J. (2016). The shapes of bird beaks are highly controlled by nondietary factors. Proc Natl Acad Sci USA, 113, 5352-5357. https://doi.org/10.1073/pnas.1602683113
Dorji, N., & Sunar, S. K. (2014). Morphometric variations among five Bhutanese indigenous chicken. J. Anim Poult Sci, 3, 76–85.
Faruque, S., Siddiquee, N.U., Afroz, M.A., & Islam, M.S. (2010). Phenotypic characterization of Native Chicken reared under intensive management system. J Bangl Agril Univ, 8, 79-82. https://doi.org/10.3329/jbau.v8i1.6402
Felice, R.N., & Goswami, A. (2018). Developmental origins of mosaic evolution in the avian cranium. Proc Natl Acad Sci USA, 115: 555-560. https://doi.org/10.1073/pnas.1716437115
Gu, H., Qi, X., Jia, Y., Zhang, Z., Nie, C., Li, X., Li, J., Jiang, Z., Wang, Q., & Gu, L. (2019). Inheritance patterns of the transcriptome in hybrid chickens and their parents revealed by expression analysis. Scientific Reports, pp. 9, 4043. https://doi. org/10.1038/s41598-019-42019-x.
Ige, A. O. (2014). Quantitative differentiation of two populations of indigenous chickens in a derived savannah zone of Nigeria using morphometric traits. Int J Res Stud Biosci, 2, 1-16. https://doi.org/10.39 23/ijps.2012.616.620.
Kabir, M., Oni, O.O., Akpa, G.N., & Adeyinka, I.A. (2006). Heritability estimates and the interrelationships of body weight and shank length in Rhode island red and white chickens. Pak J Biol Sci, 9(15), 2892-2896. https://doi.org/10.3923/pjbs.2006.2892.2896.
Keambou, T.C., Manjeli, Y., Boukila, B., Mboumba, S., Mezui, T.M., & Touko, B.A.H. (2010). Heterosis and reciprocal effects of growth performances in F1 crosses generations of Local x Hubbard chicken in the Western Highlands of Cameroon. Livest Res Rural Dev, 22(1).
Kita, K., Nagao, K., Taneda, N., Inagaki, Y., Hirano, K., Shibata, T., Yaman, M.A., Conlon, M.A., & Okumura, J. (2002). Insulin-like growth factor binding protein-2 gene expression can be regulate by diet manipulation in several tissues of young chickens. Journal of Nutrition, 132(2), 145-151. https://doi.org/10.1093/jn/132.2.145.
Lalev, M., Mincheva, N., Oblakova, M., Hristakieva, P., & Ivanova, I. (2014). Estimation of heterosis, direct and maternal additive effects from crossbreeding experiment involving two white Plymouth rock lines of chickens. Biotechnology in Animal Husbandry, 30(1), 103-114. https:// doi.org/10.2298/BAH1401103L.
Lisnahan, C.V., Nahak, O.R., & Abi, A. (2020). Dimensi tubuh ayam Kampung fase pullet yang disuplementasi L-threonine dan L-tryptophan dalam pakan. Journal of Tropical Animal Science and Technology, 2(1), 12-22.
Lisnahan, C.V., Wihandoyo, W., Zuprizal, Z., & Harimurti, S. (2017). Growth performance of native chickens in the grower phase fed methionine and lysine-supplemented cafeteria standard feed. Pakistan J Nutr, 16(12), 940–944. https://doi.org/10.3923/pjn. 2017.940.944.
Liyanage, R.P., Dematawewa, C.M.B., Silva, G.L.L.P. (2015). Comparative study on morphological and morphometric features of village chicken in Sri Lanka. Trop Agric Res, 26, 261-273. https://doi.org/10.4038/ tar.v26i2.8090
Maharani, D., Mustofa, F., Sari, A.P.Z.N.L., Fathoni, A., Sasongko, H., & Hariyono, D.N.H. (2021). Phenotypic characterization and principal component analyses of indigenous chicken breeds in Indonesia. Veterinary World, 14, 1665-1676. https://doi.org/10.14202/vetworld.2021.1665-1676
Osei-Amponsah, R., Kayang, B.B., & Naazie, A. (2013). Phenotypic and genetic parameters for production traits of local chickens in Ghana. J Agric Biol Sci, 53, 45-50. https://doi.org/10.1017/S2078633613000271
Otecko, N.O., Ogali, I., Ng'ang'a, S.I., Mauki, D.H., Ogada, S., Moraa, G.K., Lichoti, J., Agwanda, B., Peng, M., Ommeh, S.C., & Zhang, Y. (2019). Phenotypic and morphometric differentiation of indigenous chickens from Kenya and other tropical countries augments perspectives for genetic resource improvement and conservation. Poult Sci, 98(7), 2747-2755. https://doi.org/ 10.3382/ps/pez097
Patbandha, T.K., Garg, D.D., Marandi, S., Vaghamashi, D.G., Patil, S.S., & Savsani, H.H. (2017). Effect of chick weight and morphometric traits on growth performance of coloured broiler chicken. J Entomol Zool Stud, 5(6), 1278-1281.
Petek, M., Orman, A., Dikmen, S., & Alpay, F. (2010). Physical chick parameters and effects on growth performance in broiler. Archiv fur Tierzucht, 53(1), 108-115. https://doi.org/10.5194/aab-53-108-2010
Putranto, H.D., Setianto, J., Yumiati, Y., & Handika, D. (2018). Analyses of body and chest morphometric comparison between two Indonesian local poultry species. Int J Agric Technol, 14(7), 1719-1730.
Rahayu, B.W.I., Widodo, A.E.P., & Saronggalo, R. (2010). Penampilan pertumbuhan ayam persilangan Kampung dan Bangkok. Jurnal Ilmu Peternakan, 5(2), 77-81.
Rofii, A., Saraswati, T.R., & Yuniwarti, E.Y.W. (2018). Phenotypic characteristic of Indonesian native chicken. J Anim Behav Biometeorol, 6, 56-61. https://doi.org/10. 31893/23181265jabb.v6n3p56-61
Sanchez-Rodriguez, E., Benavides-Reyes, C., Torres, C., Dominguez-Gasca, N., Garcia-Ruiz, A.I., Gonzalez-Lopez, S., & Rodriguez-Navarro, A.B. (2019). Changes with age (from 0 to 37 D) in tibiae bone mineralization, chemical composition and structural organization in broiler chickens. Poult Sci, 98, 5215–5225. https://doi.org/10. 3382/ps/pez363
Semakula, J., Lusembo, P., Kugonza, D.R., Mutetikka, D., Ssennyonjo, J., & Mwesigwa, M. (2011). Estimation of live body weight using zoometrical measurements for improved marketing of indigenous chicken in the Lake Victoria basin of Uganda. Livest Res Rural Development, 23.
Sitanggung, E.N., Hasnudi, H., & Hamdan, H. (2015). Keragaman sifat kualitatif dan morfometrik antara ayam Kampung, ayam Bangkok, ayam Katai, ayam Birma, ayam Bagon dan Magon di Medan. Jurnal Peternakan Integratif, 3(2), 167-189.
Soeroso, S., Duma, Y., & Mozin, S. (2009). Nilai heritabilitas dan korelasi 372enetic sifat pertumbuhan dari silangan ayam lokal dengan ayam Bangkok. J Agroland, 16 (1), 67 – 71
Sophian, A., Abinawanto, A., Nisa, U.C., & Fadhillah, F. (2021). Morphometric analysis of Gorontalo (Indonesia) native chickens from six different region. Biodiversitas. 22(4): 1757-1763. https://doi.org/10.13057/biodiv/ d220420.
Suk, Y.O. (2004). The association of growth rate with body weight or shank length at birth in broiler chickens. Korean J Poult Sci, 31(3), 157-164.
Ukwu, H.O., Okoro, V.M.O., & Nosike, R.J. (2014). Statistical modeling of body weight and linear body measurements in Nigerian indigenous chicken. IOSR J Agric Vet Sci, 7, 27-30. https://doi. org/10.9790/2380-071527 30
Yeasmin, T., Howlider, M.A.R. (2013). Effects of autosomal dwarf gene on growth and shank length of chicken. The Bangladesh Veterinarian, 30(1), 25-32. https://doi.org/10.3329/bvet.v 30i1 .16282
Young, N.M., Linde-Medina, M., Fondon, J.W., Hallgrímsson, B., & Marcucio, R.S. (2017). Craniofacial diversification in the domestic pigeon and the evolution of the avian skull. Nat Ecol Evol, 1 (4), 95-111. https://doi.org/10.1038/s41559 -017-0095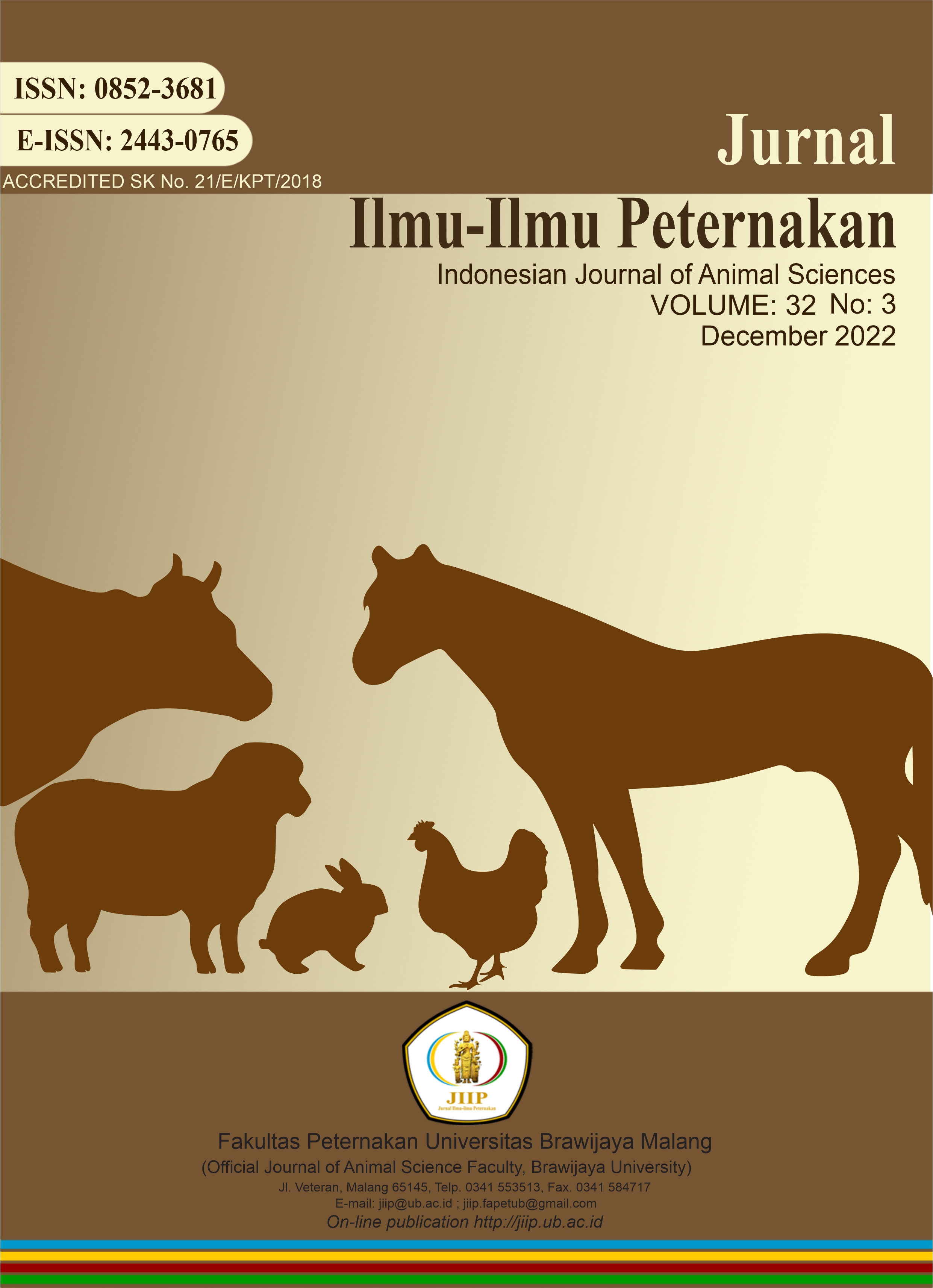 Downloads
License
Copyright (c) 2022 Junaedi Junaedi, Khaeruddin Khaeruddin, Hastuti Hastuti, Suparman Suparman
This work is licensed under a Creative Commons Attribution-NonCommercial-ShareAlike 4.0 International License.
Authors who publish with this journal agree to the following terms:
Authors retain copyright and grant the journal right of first publication with the work simultaneously licensed under a Creative Commons Attribution License that allows others to share the work with an acknowledgment of the work's authorship and initial publication in this journal.
Authors are able to enter into separate, additional contractual arrangements for the non-exclusive distribution of the journal's published version of the work (e.g., post it to an institutional repository or publish it in a book), with an acknowledgment of its initial publication in this journal.
Authors are permitted and encouraged to post their work online (e.g., in institutional repositories or on their website) prior to and during the submission process, as it can lead to productive exchanges, as well as earlier and greater citation of published work (See The Effect of Open Access).