The Effect of Using Papaya and Watermelon Juice as a Non-Synthetic Buffer on the Quality of Kacang Goat's (Capra Hircus) Liquid Semen During Cold Storage at 5oC
Keywords:
Buffer, Watermelon, Papaya, Semen, Kacang goat
Abstract
This study examines the role of non-synthetic buffers from watermelon and papaya juice added to coconut water diluent on the liquid semen quality of Kacang goats during cold storage at 5oC for three months. An experimental method was used in which semen from a 2.5-year-old male was collected twice a week using an artificial vagina. The primary ingredients include young coconut water, Viridis, watermelon, papaya, NaHCO3, and Egg Yolk (KT). Furthermore, the observed variables were individual motility, viability, and abnormality. This study used a Randomized Block Design (RAK)) with 3 treatments and 10 replications, namely P0: Coconut Water + NaHCO3 + 10% KT, P1: Coconut Water + Watermelon Juice + 10% KT, and P2: Coconut Water + Papaya Juice + 10% KT. The data were analyzed using Variety Analysis. The results showed the treatment had a significant effect (P<0.01) on individual motility at all storage times, with the best motility up to 120 storage minutes with 61.00±3.16% at P1. Furthermore, the treatment had a significant effect (P<0.01) on viability at all storage times. The best treatment was P0 (72.24±5.28%), and the lowest was P2 (1.40±0.84%), with a shelf life of 120 minutes. The treatment had no effect (P>0.01) on abnormality at all storage times. It can be concluded that the use of watermelon and papaya juice as non-synthetic buffers in coconut water diluent on Kacang goat semen affects motility and viability but has no effect on abnormality.
References
Audia. R.P., M. A, Salim., N. Isnaini dan T. Susilawati, 2017. Pengaruh Perbedaan Kematangan Air Kelapa Hijau sebagai Bahan Pengencer yang Ditambah 10% Kuning Telur terhadap Kualitas Semen Cair Kambing Boer, J. Ternak Tropika 18 (1) : 58-68.
Aziz, A.F., M. A. Salim., N, Isnaini., A.P. A., Yekti, dan T,Susilawati, 2018. Pengaruh Pengencer Air Kelapa Tua yang Berbeda Varietas terhadap Kualitas Semen Cair Kambing Boer pada Penyimpanan 3-50C, Jurnal Ilmu-Ilmu Peternakan 28 (2): 112 – 120.
Barlina, R., S, Karouw1., J, Towaha dan R, Hutapea, 2007. Pengaruh Perbandingan Air Kelapa Dan Penambahan Daging Kelapa Muda Serta Lama Penyimpanan Terhadap Serbuk Minuman Kelapa, Jurnal Littri, 13, (12) : 73 – 80.
Bintara, S. 2011. Rasio X:Y dan Kualitas Sperma pada Kambing Kacang dan Peranakan Ettawa. Fakultas Peternakan Universitas Gadjah Madda. Yogyakarta. Sains Peternakaan, 9(2):65-71.
Campos, C.F., P. E. A. Souza., J. V. Coelho and M. B. A. Gloria. 1996. Chemical Composition, Enzyme Activity and Effect of Enzyme Inactivation on Flavor Quality of Green Coconut Water, Journal of Food Processing and Preservation, 20 : 487-500.
Holm L and Wishart GJ, 1998. The Effect of pH on the Motility of Spermatozoa From Chicken, Turkey and Quail. Anim Reprod Sci. 54 : 45–54
Mishra, A.K., A. Kumar., D. K, Swain., S.Yadav and R. Nigam, 2018. Insights into pH Regulatory Mechanisms in Mediating Spermatozoa Functions, Vet World, 11(6): 852–858.
Mugiyati., M. A.Salim., N, Isnaini dan T, Susilawati, 2017. Pengaruh Air Kelapa Merah yang Muda dan Tua sebagai Pengencer terhadap Kualitas Semen Kambing Boer selama Penyimpanan Dingin, J.Ternak Tropika 18, (1) : 20-26.
Pamungkas, F.A, 2009. Potensi Dan Kualitas Semen Kambing Dalam Rangka Aplikasi Teknologi Inseminasi Buatan, Wartazoa, 19 (1) : 17 – 22.
Salim, M.A., M.N. Ihsan., N. Isnaini dan T.Susilawati, 2019. Kualitas Semen Cair Kambing Boer Berbahan Pengencer Air Kelapa Muda Varietas Viridis Setelah Simpan Dingin, Jurnal Ilmu dan Teknologi Peternakan Tropis, 6(1) : 78-84.
Setiawan, F dan E. D. Kususmawati, 2017. Kualitas Semen Segar Kambing Kacang pada Suhu 5oC dengan Lama Simpan yang Berbeda Menggunakan Pengencer dan Tanpa Pengencer, Jurnal Sains Peternakan, 5 (2) : 77-85.
Steel, R.G.D dan J.H. Torrie. 1995. Prinsip dan Prosedur Statistika. Alih Bahasa : Bambang Sumantri. Gramedia Pustaka, Jakarta.
Susilawati, T. 2017. Spermatology,Cetakan ke-2, UB-Press, Malang, ISBN : 978-602-8960-04-5.
Susilawati, T. 2013. Pedoman Inseminasi Buatan pada Ternak. Malang: UB Press, ISBN: 98-602-203-458-2.
Tadmor, Y., King, S., Levi, A., Davis, A and Hirschberg, J. (2005). Comparative Fruit Coloration In Watermelon and Tomato. FoodResearch International, 38, 837-841.
Yitnosumarto, S. 1993. Percobaan Perancangan, Analisis dan Interpretasinya. Gramedia Pustaka Utama, Jakarta.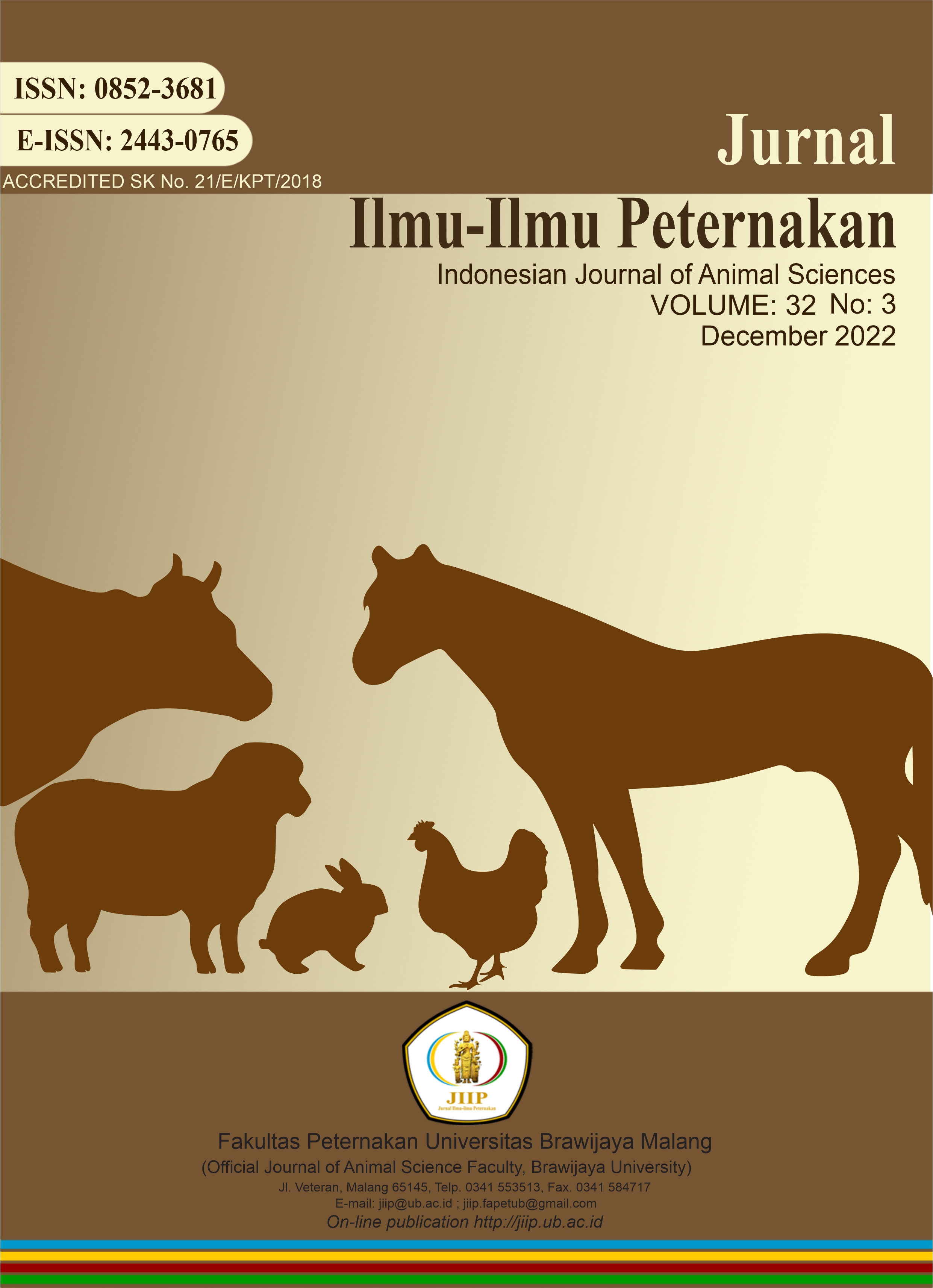 Downloads
License
Copyright (c) 2022 Muhammad Ade Salim
This work is licensed under a Creative Commons Attribution-NonCommercial-ShareAlike 4.0 International License.
Authors who publish with this journal agree to the following terms:
Authors retain copyright and grant the journal right of first publication with the work simultaneously licensed under a Creative Commons Attribution License that allows others to share the work with an acknowledgment of the work's authorship and initial publication in this journal.
Authors are able to enter into separate, additional contractual arrangements for the non-exclusive distribution of the journal's published version of the work (e.g., post it to an institutional repository or publish it in a book), with an acknowledgment of its initial publication in this journal.
Authors are permitted and encouraged to post their work online (e.g., in institutional repositories or on their website) prior to and during the submission process, as it can lead to productive exchanges, as well as earlier and greater citation of published work (See The Effect of Open Access).