The role of the digitized milk collection point in increasing milk quality and income of smallholder dairy farmers in Pangalengan-Bandung
Keywords:
Price incentives, Partnership, Smallholder dairy farming
Abstract
The low quality of fresh milk has become one of the main constraints smallholder dairy farmers face in almost all developing countries, including Indonesia. The low quality of fresh milk has resulted in lower prices received by farmers. It can even result in the rejection of milk by milk processors, which is detrimental to smallholder farmers. This paper aims to analyze the impact of automated and digitized milk collection points (AD-MCPs) on the quality of fresh milk, the price of milk, and smallholder dairy farmers' income in Pangalengan, Bandung, West Java. The data and information of 300 households are part of the baseline survey of 600 smallholder dairy farmers in four districts of West Java between July and September 2017. The results show that AD-MCP facilities have successfully encouraged smallholder dairy farmers to adopt and implement improved management practices to increase dairy cows' productivity and fresh milk quality, resulting in increased prices and farm income.    Therefore, the government needs to endorse, facilitate, and accelerate the development of AD-MCPs to increase domestic fresh milk production, quality of fresh milk, and dairy farmers' income. AD-MCP development is implemented through a partnership between dairy farmers, cooperatives, and milk processors.
References
Anugrah, I. S., Purwantini, T. B., & Erwidodo. (2021). Milk collection points: inovasi kemitraan usaha ternak sapi perah di Pangalengan-Bandung Selatan. Jurnal Analsis Kebijakan Pertanian, 19(1), 1–18.
Ariningsih, E., Saliem, H. P., & Erwidodo. (2019). Sales and marketing of fresh milk by smallholder dairy farmers in West Java. IOP Conference Series: Earth and Environmental Science, 372, 012056. https://doi.org/10.1088/ 1755-1315/372/1/012056
Asmara, A., Purnamadewi, Y. L., & Lubis, D. (2016). Keragaan produksi susu dan efisiensi usaha peternakan sapi perah rakyat di Indonesia. Jurnal Manajemen & Agribisnis, 13(1), 14–25.
Erwidodo, & Hasan, F. (1993). Evaluasi kebijaksanaan industri persusuan di Indonesia. Jurnal Agro Ekonomi, 12(1).
Erwidodo, & Trewin, R. (1996). The social welfare impact of indonesian dairy policies. Bulletin of Indonesia Economic Studies, 32(3), 55–84.
Farid, M., & Sukesi, E. (2011). Pengembangan susu segar dalam negeri untuk pemenuhan kebutuhan susu nasional. Buletin Ilmiah Penelitian Pengembangan Perdagangan, 5(2), 196–221. https:// doi.org/10.30908/bilp.v5i2.128
Jahroh, S., Atmakusuma, J., Harmini, H., & Fadillah, A. (2020). Comparative analysis of dairy farming management and business model between East Java and West Java, Indonesia. Jurnal Manajemen Dan Agribisnis, 17(1), 96–107. https://doi.org/10.17358/jma. 17.1.96
Kemenko Perekonomian. (2014). Cetak Biru Persusuan Indonesia 2013-2025.
KPBS Pangalengan. (2017). Laporan Tahunan Tahun Buku 2017 ke-49.
Lemma D, H., Mengistu, A., Kuma, T., & Kuma, B. (2018). Improving milk safety at farm-level in an intensive dairy production system: relevance to smallholder dairy producers. Food Quality and Safety, 2(3), 135–143. https://doi.org/10.1093/fqsafe/fyy009
Mauludin, M. A., Alim, S., & Sari, V. P. (2017). Pengembangan dan dinamika moda produksi usaha peternakan sapi perah di Pangalengan Jawa Barat. Jurnal Sosiohumaniora, 19(1), 37–44.
Moran, J., & Morey, P. (2011). Strategies to increase the domestic production of raw milk in Indonesia and other South East Asian countries. Proceedings of the 6th International Seminar on Tropical Animal Production: Integrated Approach in Developing Sustainable Tropical Animal Production, 1–27.
Murti, Ridjoko W., Purnomo, H., & Usmiati, S. (2009). Pascapanen dan teknologi pengolahan susu. In Profil usaha peternakan sapi perah Indonesia (pp. 259–299). LIPI Press.
Sawaldi. (2015). Sistem Milk Collection Point (MCP) pertama di Indonesia untuk peternak susu sapi. Tabloid Bewara. Edisi : 03/2015.
Tiya, N. A. D., Alim, S., & Hermawan. (2017). Respon peternak sapi perah terhadap keberadaan milk collection point (MCP): kasus di TPK Los Cimaung KPBS Pangalengan. Students E-Journal, 6(1), 1–14.
United State Department of Agriculture-Foreign Agricultural Service. (2018). Indonesia 2018 dairy and products annual report. (Attaché Report) Gain Report.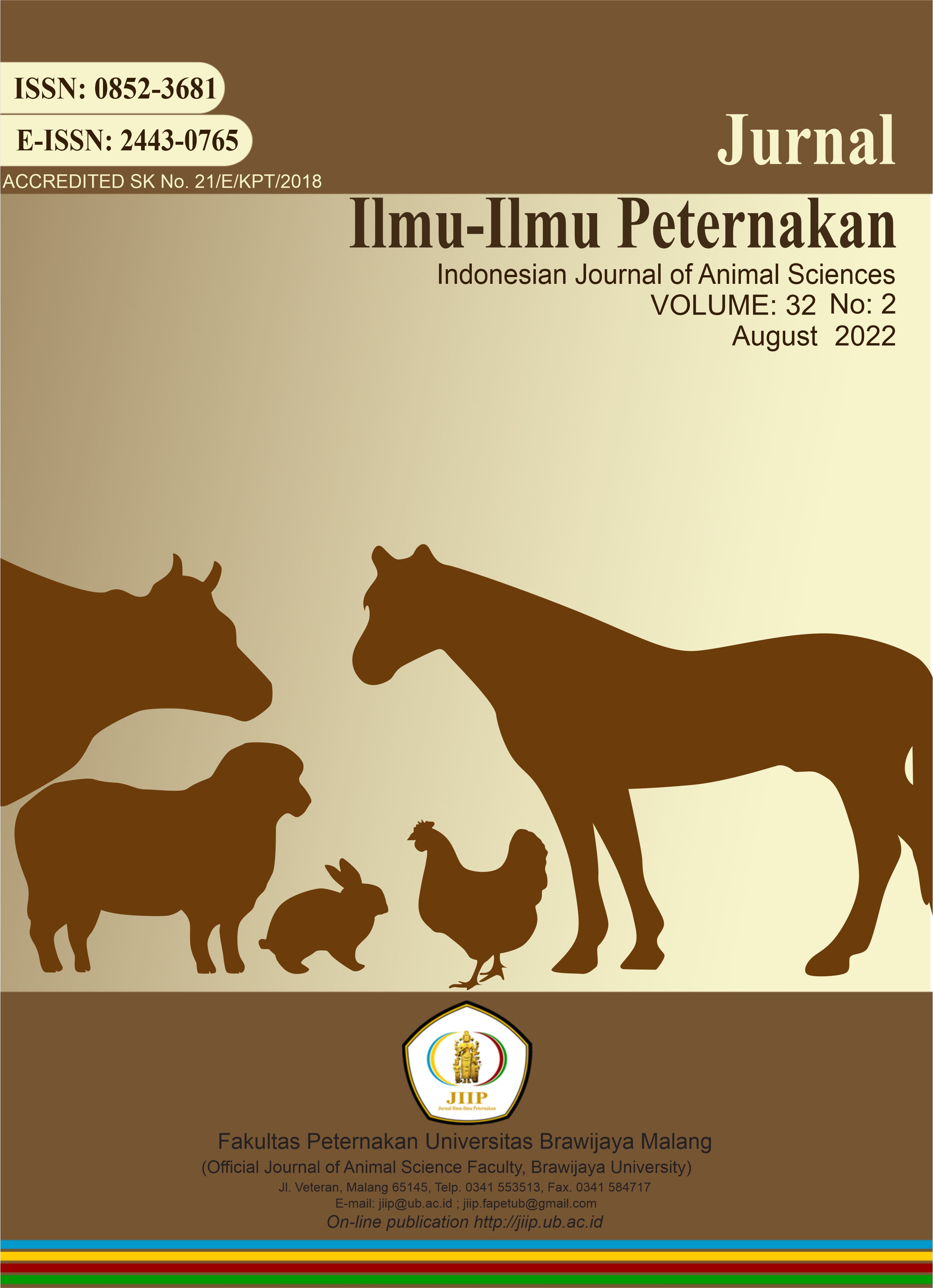 Downloads
License
Authors who publish with this journal agree to the following terms:
Authors retain copyright and grant the journal right of first publication with the work simultaneously licensed under a Creative Commons Attribution License that allows others to share the work with an acknowledgment of the work's authorship and initial publication in this journal.
Authors are able to enter into separate, additional contractual arrangements for the non-exclusive distribution of the journal's published version of the work (e.g., post it to an institutional repository or publish it in a book), with an acknowledgment of its initial publication in this journal.
Authors are permitted and encouraged to post their work online (e.g., in institutional repositories or on their website) prior to and during the submission process, as it can lead to productive exchanges, as well as earlier and greater citation of published work (See The Effect of Open Access).