Comparative Income Combination of Farming and Cattle Bali in Palangga Subdistrict South Konawe Regency
Keywords:
Bali Cows, Horticulture, Palawija, Income
Abstract
The research aims to determine the income of cattle business combined with horticultural farming and palawija in April-June 2020 in Palangga District, South Konawe Regency. The location determination method is purposive, where there are farmers with horticulture and palawija farming. Respondents in the study were 40 farmers. The data is analyzed qualitatively and quantitatively to compare cattle income, horticulture, and palawija. The results showed that the average income of livestock business amounted to Rp. 8.779.500/year and horticultural and palawija farming Rp. 18.889.950/year, Bali cattle business income combined horticultural farming of Rp. 20.931.200/year and Bali cattle business combined palawija farming of Rp. 6.738.250/year.
References
Adhianto, K., Muhtarudin., Husni., & Zhahir. (2019). Provision of fermented cassava waste and micro organic minerals in Rations Against Goat Performa. Animal Science: Journal of Livestock Science Research, 17(2), 12–16.
Apriani, M., Nahraeni, W., & Yusdiarti, A. (2020). Analysis of agricultural income and institutional efficiency of organic and inorganic rice farming in Limbangan Village, Sukaraja District, Sukabumi Regency. Agribisains Journal, 6(1), 14–28.
Apriani, M., Rachmina, D., & Rifin, A. (2018). Pengaruh tingkat penerapan teknologi pengelolaan tanaman terpadu (PTT) terhadap efisiensi teknis usahatani padi. Jurnal Agribisnis Indonesia, 6(2), 121–132. https://doi.org/10.29244/jai.2018.6.2.121-132
Arida, A., Mujiburrahmad, M., & Anwar, S. (2019). Analisis komoditas unggulan tanaman pangan di Kabupaten Aceh Timur. Agrifo : Jurnal Agribisnis Universitas Malikussaleh, 4(1), 80–86. https://doi.org/10.29103/ag.v4i1.1 544
Arisman, A., Saediman, S., & Abdullah, W. G. (2020). Corn intercropping system feasibility analysis (Zea mays L.) and peanuts (Arachis hypogea L.) in Lawa Subdistrict, West Muna Regency. Journal of Agribusiness and Agricultural Socioeconomic Sciences, 5(2), 69–73.
Azis, F. A., Liman, & Widodo, Y. (2013). Potensi limbah padi sebagai pakan sapi bali di Desa Sukoharjo II Kecamatan Sukoharjo Kabupaten Pringsewu. Jurnal Ilmiah Peternakan Terpadu, 2(1), 26–32.
Dewi, R. K. (2019). Analysis of potential ruminant livestock development area in Lamongan Regency. Livestock Journal, 9(2), 5–11.
Fahrul, A. H., & Rombe, M. B. (2011). Analysis of beef cattle farm revenue in Tenete Rilau Subdistrict, Barru Regency. Journal of Agribusiness, 10(3), 98–109.
Fyka, S. A., Limi, M. A., Zani, M., & Salamah, S. (2019). Analisis potensi dan kelayakan usahatani sistem integrasi padi ternak (Studi Kasus di Desa Silea Jaya Kecamatan Buke Kabupaten Konawe Selatan). Jurnal Ilmu Dan Teknologi Peternakan Tropis, 6(3), 375–381. https://doi.org/ 10.33772/jitro.v6i3.7520
Hidayati, F., Yonariza, Y., Nofialdi, N., & Yuzaria, D. (2020). Analisis keuntungan dan kendala penerapan konsep sistem pertanian terpadu (SPT) di Indonesia. Jurnal Agribisnis Dan Ilmu Sosial Ekonomi Pertanian, 5(3), 74–83. https://doi.org/10.37149/jia.v5 i3.11688
Howara, D. (2019). Optimization of integrated rice and cattle farming development in Majalengka Regency. Journal Agroland, 18(1), 43–53.
Khadijah, N., Hadi, S., & Maharani, E. (2019). Analysis of beef cattle agribusiness in siak regency of Riau Province. Journal of Agribusiness, 21(1), 23–35.
Kurniati, N., Efrita, E., & Damaiyanti, D. (2019). Farm revenue of rice and cattle based integration system in Rimbo Kedui Village, Seluma Regency, Bengkulu Province. Journal of Agribusiness Fisheries, 12(1), 64–69.
Lukiwati, D. R., & Kristanto, B. A. (2016). Peningkatan produksi jagung manis dan jerami dalam sistem integrasi tanaman pangan dan peternakan sapi brangus. Jurnal Ilmu Ternak, 16(2), 89–94.
Ningrum, N. Z., Limi, M. A., & Fyka, S. (2019). Multiplier effect analysis of mina padi system development for local people in Epeesi Village, Basala District, South Konawe Regency. Jurnal Agribisnis Dan Ilmu Sosial Ekonomi Pertanian, 4(6), 166–172.
Pagala, M. A., Munadi, L. M., & Zulkarnain., D. (2019). Diversity and green types carrying capacity bali beef in oil palm plantation in Kolaka District. Indonesian Journal of Animal Agricultural Science, 1(1), 48–55.
Pagala, M. A., Zulkarnain, D., & Munadi, D. Z. (2020). Kapasitas daya tampung hijauan pakan ternak dan hasil ikutan perkebunan kelapa sawit di Kecamatan Tanggetada Kabupaten Kolaka. Jurnal Sosio Agribisnis, 5(2), 70–76.
Pinardi, D., Gunarto, A., & Santoso, S. (2019). Perencanaan lanskap kawasan penerapan inovasi teknologi peternakan prumpung berbasis ramah lingkungan. jurnal ilmiah peternakan terpadu, 7(2), 251–262. https://doi. org/10.23960/jipt.v7i2.p251-262
Ritonga, U. S. (2018). Commodity dynamics based on the broad advantage of food crop land Sumedang Regency West Java Province. Journal of Agribusiness Malikussaleh University, 3(1), 57–68.
Sahala, J. (2016). Analisis kelayakan finansial usaha penggemukan sapi simmental peranakan ongole dan faktor-faktor yang berpengaruh terhadap jumlah kepemilikan pada peternakan rakyat di Kabupaten Karanganyar. Buletin Peternakan, 40(1), 74–82. https://doi.org/10.210 59/buletinpeternak.v40i1.9823
Sani, L. O., Ba`a, L. O., Abadi, M., & Ali, T. (2018). Analisis finansial kombinasi usaha ternak sapi bali, perkebunan dan hortikultura di Kecamatan Tinanggea Kabupaten Konawe Selatan. Inovasi Teknologi Peternakan Dalam Mendukung Terwujudnya Ketahanan Pangan Nasional, 393–400.
Sari, A., Liman, & Muhtarudin. (2016). Potential capacity to support waste crops palawija as ruminant animal feed in Pringsewu District. Scientific Journal of Integrated Animal Husbandry, 4(2), 100–107.
Setiawan, B. D., Arfa'i, A., & Nur, Y. S. (2019). Evaluasi sistem manajemen usaha pembibitan sapi bali terintegrasi dengan perkebunan kelapa sawit di Kabupaten Pasaman Barat, Provinsi Sumatera Barat. Jurnal Ilmiah Peternakan Terpadu, 7(3), 276–286. https://doi.org/10.23960/jipt.v7i3.p276-286
Soekartawi. (2000). Teori Produksi. PT Raja Grafindo Persada.
Yamin, A. A., & Syamsu, J. A. (2020). Food waste as cattle feed cattle In Sidenreng Rappang District. Sriwijaya Livestock Journal, 9(1), 26–34.
Yuliani, D. (2018). Rice cattle integration system to realize food sovereignty. Journal of Agrotechnology, 4(2), 15–26.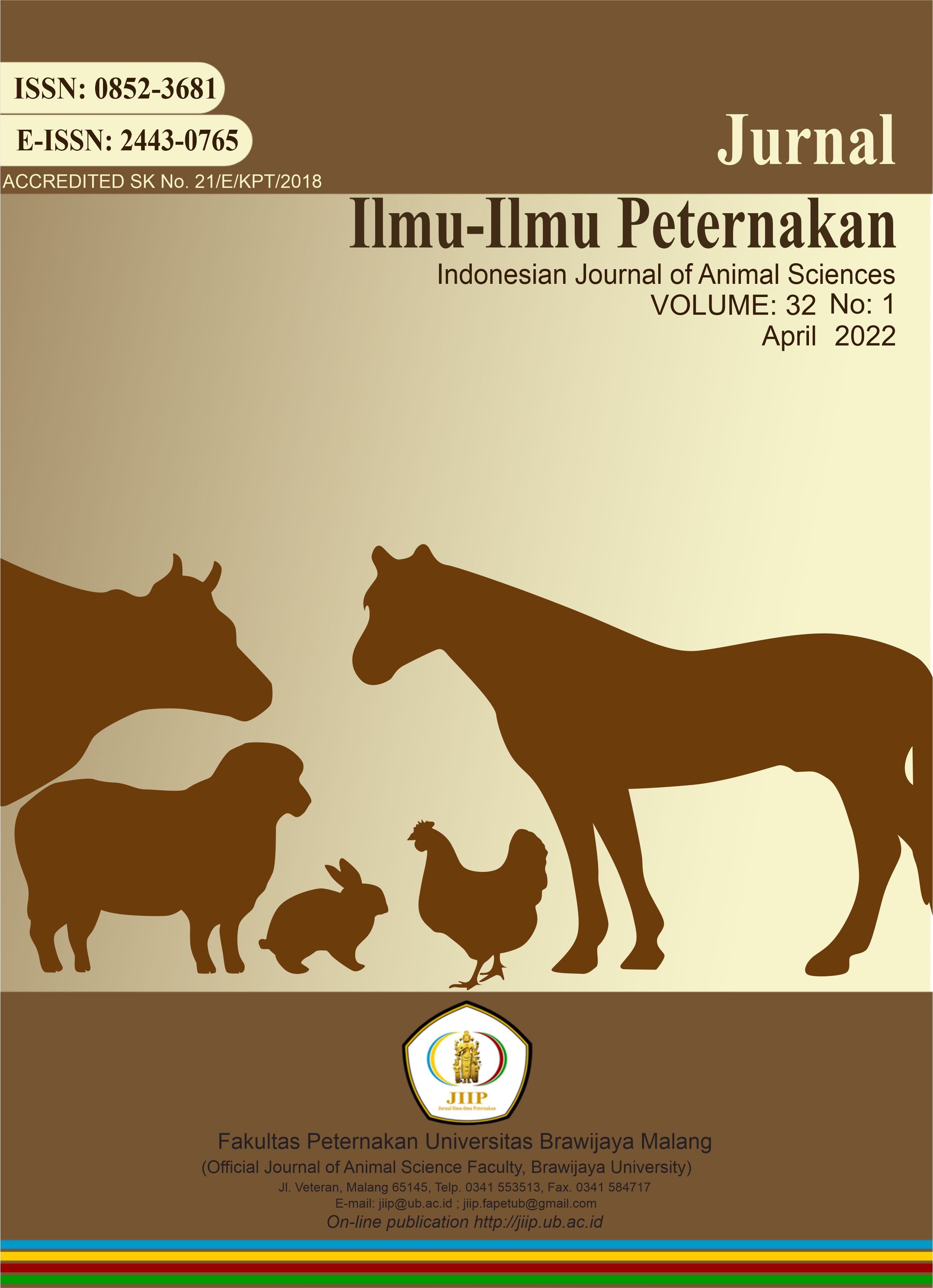 Downloads
License
Authors who publish with this journal agree to the following terms:
Authors retain copyright and grant the journal right of first publication with the work simultaneously licensed under a Creative Commons Attribution License that allows others to share the work with an acknowledgment of the work's authorship and initial publication in this journal.
Authors are able to enter into separate, additional contractual arrangements for the non-exclusive distribution of the journal's published version of the work (e.g., post it to an institutional repository or publish it in a book), with an acknowledgment of its initial publication in this journal.
Authors are permitted and encouraged to post their work online (e.g., in institutional repositories or on their website) prior to and during the submission process, as it can lead to productive exchanges, as well as earlier and greater citation of published work (See The Effect of Open Access).