Effects of the Inclusion of Star Gooseberry (Sauropus androgynus) Leaf Meal in Ration on Physical and Nutritional Quality of KUB Chicken Breast Meat
Keywords:
KUB chicken, Star gooseberry leaf, Meat physical quality, Meat nutrition
Abstract
Local chickens are among the enormous poultry genetic sources in Indonesia.  These chickens are potential to develop as they are found in big population throughout the country.  Chicken meat is a nutritious food containing nutrients including carbohydrate, protein, fat, water, minerals, and vitamins in balanced proportion.  Improvement of nutritive contents of Balitnak Superior Local Chicken (KUB chicken) meat can be achieved by providing the chickens with quality and nutritious feed.  The inclusion of star gooseberry leaf meal can be an alternative as it is nutritious, cheap, and plenty.  This study was aimed at assessing effects of star gooseberry leaf meal (SGLM) inclusion in ration on physical and nutritional quality of KUB chicken breast meat. Ninety-six (KUB chickens) aged 7 days were allocated into 4 treatments and 4 replicates in a completely randomized design.  Treatments consisted of 0% SGLM inclusion in ration (R0), 1% SGLM inclusion in ration (R1), 2% SGLM inclusion in ration (R2), and 3% SGLM inclusion in ration (R3).  Data were subjected to an analysis of variance (anova) and a Duncan test.  Results showed that treatments significantly increased (P<0.05) water but not (P>0.05) ash, fat, and protein contents of breast meat.  Meat water holding capacity, cooking loss, and tenderness were found to be improved (P<0,05) but no different (P>0.05) meat pH was observed.
References
Aberle, E. D., Forrest, J. C., Gerrard, D. E., & Mills, E. W. (2001). Principles of meat science. 4th ed. In Kendall/Hunt Publishing Co., Dubuque, IA.
Afrianti, M., Dwiloka, B., & Setiani, E. B. (2013). Total bakteri, ph, dan kadar air daging ayam broiler setelah direndam dengan ekstrak daun senduduk (Melastoma malabathricum L.) selama masa simpan. Jurnal Pangan Dan Gizi, 04(1), 49–55.
Andarwulan, N., Batari, R., Sandrasari, D. A., Bolling, B., & Wijaya, H. (2010). Flavonoid content and antioxidant activity of vegetables from Indonesia. Food Chemistry, 121(4), 1231–1235. https://doi.org/10.1016/j.foodchem.2010.01.033
Andarwulan, N., Kurniasih, D., Apriady, R. A., Rahmat, H., Roto, A. V., & Bolling, B. W. (2012). Polyphenols, carotenoids, and ascorbic acid in underutilized medicinal vegetables. Journal of Functional Foods, 4(1), 339–347. https://doi.org/10.1016/j.jff. 2012.01.003
Anggraeni, H, R., Sudrajat, D., Malik, B., & Oktavia, V. (2021). Effects of the inclusion of star gooseberry dried leaf extract in ration on egg organoleptic values of local duck. Indonesian Journal of Applied Research (IJAR), 2(3), 192–195. https://doi.org/10.30 997/ijar.v2i3.157
Badan Standarisasi Nasional. (2013). Pakan Ayam Buras (1st ed.). Starter.
Chaudhary, S. K., Rokade, J. J., N. Aderao, G., Singh, A., Gopi, M., Mishra, A., & Raje, K. (2018). Saponin in Poultry and Monogastric Animals: A Review. International Journal of Current Microbiology and Applied Sciences, 7(07), 3218–3225. https://doi.org/10. 20546/ijcmas.2018.707.375
Dewi, S. H. C. (2013). Kualitas kimia daging ayam kampung dengan ransum berbasis konsentrat broiler. Jurnal Agrisains, 4(6), 42–49.
Direktorat Jenderal Peternakan dan Kesehatan. (2020). Statistik Peternakan dan Kesehatan Hewan. Kementerian Pertanian.
Edi, H. (2013). Penggunaan pakan fungsional terhadap daya ikat air, susut masak, dan keempukan daging. Jurnal Ilimiah Peternakan, 1(1), 10–19.
Fauzi, M. (2006). Analisa Pangan dan Hasil Pertanian. Universitas Jember.
Hajrawati, H., M., F., Wahyuni, W., & Arief, I. I. (2016). Kualitas fisik, mikrobiologis, dan organoleptik daging ayam broiler pada pasar tradisional di Bogor. Jurnal Ilmu Produksi Dan Teknologi Hasil Peternakan, 4(3), 386–389. https:// doi.org/10.29244/jipthp.4.3.386-389
Hassan, I. A. G., Elzubeir, E. A., & El Tinay, A. H. (2003). Growth and apparent absorption of minerals in broiler chicks fed diets with low or high tannin contents. Tropical Animal Health and Production, 35(2), 189–196. https://doi.org/10.1023/A:10228 33820757
Hermanto, B. S. (n.d.). Suplementasi Campuran Daun Sirih Dengan Daun Torbangun dan Daun Katuk Terhadap Produksi dan Kualitas Susu Kambing Sapera. IPB.
Hidayah, R., Ambarsari, I., & Subiharta, S. (2019). Kajian sifat nutrisi, fisik dan sensori daging ayam KUB di Jawa Tengah. Jurnal Peternakan Indonesia (Indonesian Journal of Animal Science), 21(2), 93–101. https://doi. org/10.25077/jpi.21.2.93-101.2019
Hidayat, C., Irawan, A., Jayanegara, A., Sholikin, M. M., Prihambodo, T. R., Yanza, Y. R., Wina, E., Sadarman, S., Krisnan, R., & Isbandi, I. (2021). Effect of dietary tannins on the performance, lymphoid organ weight, and amino acid ileal digestibility of broiler chickens: A meta-analysis. Veterinary World, 1405–1411. https://doi.org/10.14202/vetworld.2021.1405-1411
Letis, Z. M., Suprayogi, A., & Ekastuti, D. R. (2017). Suplementation of various preparations katuk leaves in feed causing a decrease of abdominal fat, fat and cholesterol levels to carcass of broiler. Jurnal Veteriner, 18(3), 461. https://doi.org/10.19087/jveteriner.2017.18.3.461
Makmur, A., Sugito, & Sumadi. (2018). Efek pemberian berbagai jenis feed additives terhadap kadar air dan protein daging ayam kampung super (Gallus domesticus). Prosiding Seminar Nasional Biotik.
Nasution, A. F., Dihansih, E., & Anggraeni. (2016). Pengaruh substitusi pakan komersil dengan tepung ampas kelapa terhadap sifat fisik dan organoleptik daging ayam kampung. Jurnal Pertanian, 7(1), 14–22.
Nasution, R. A. P., Atmomarsono, U., & Sarengat, W. (2014). Pengaruh penggunaan tepung daun katuk (Sauropus androgynus) dalam ransum terhadap performa ayam broiler. Animal Agriculture Journal, 3(2), 334–340.
Prayitno, A. H., Suryanto, E., & Zuprizal. (2010). Virgin coconut oil. Buletin Peternakan, 23–90.
Rukmini, R., Mardewi, M., & Rezeki, R. (2019). Kualitas kimia daging ayam broiler umur 5 minggu yang dipelihara pada kepadatan kandang yang berbeda. Jurnal Lingkungan & Pembangunan, 3(1), 31–37.
Sahraei, M. (2012). Feed restriction in broiler chickens production: A review. In Global Veterinaria (Vol. 8, Issue 5, pp. 333–352).
Santoso, U. (2018). Penggunaan daun katuk (Sauropus androgynus) sebagai suplemen pakan pada unggas. 1. pengaruhnya terhadap performa ayam. Jurnal Sain Peternakan Indonesia, 13(2), 151–156. https://doi.org/10.31 186/jspi.id.13.2.151-156
Soeparno. (2009). Ilmu dan Teknologi Daging (5th ed.). Gadjah Mada University Press.
Soeparno. (2015). Ilmu dan Teknologi Daging (6th ed.). Gadjah Mada University Press.
Sriyani, N., Tirta, A., Lindawati, & Miwada, I. N. S. (2015). In a Traditional Slaughtering House At Denpasar.
Subekti, S., Piliang, W., & Manalu, W. (2006). Penggunaan tepung daun katuk dan ekstrak daun katuk (Sauropus androgynus L. Merr) sebagai substitusi ransum yang dapat menghasilkan produk puyuh. JITV, 254–259.
Taran, S. ., Ballo, J. V, & Sinlae, M. (2015). The effect of combination of banana weevil flour and moringa leaves flour as substitute of corn on colour , flavour and tenderness of. Jurnal Nukleus Peternakan, 2(1), 67–74.
Woyengo, T. A., & Nyachoti, C. M. (2012). Ileal digestibility of amino acids for zero-tannin faba bean (Vicia faba L.) fed to broiler chicks. Poultry Science, 91(2), 439–443. https://doi.org/10.3 382/ps.2011-01678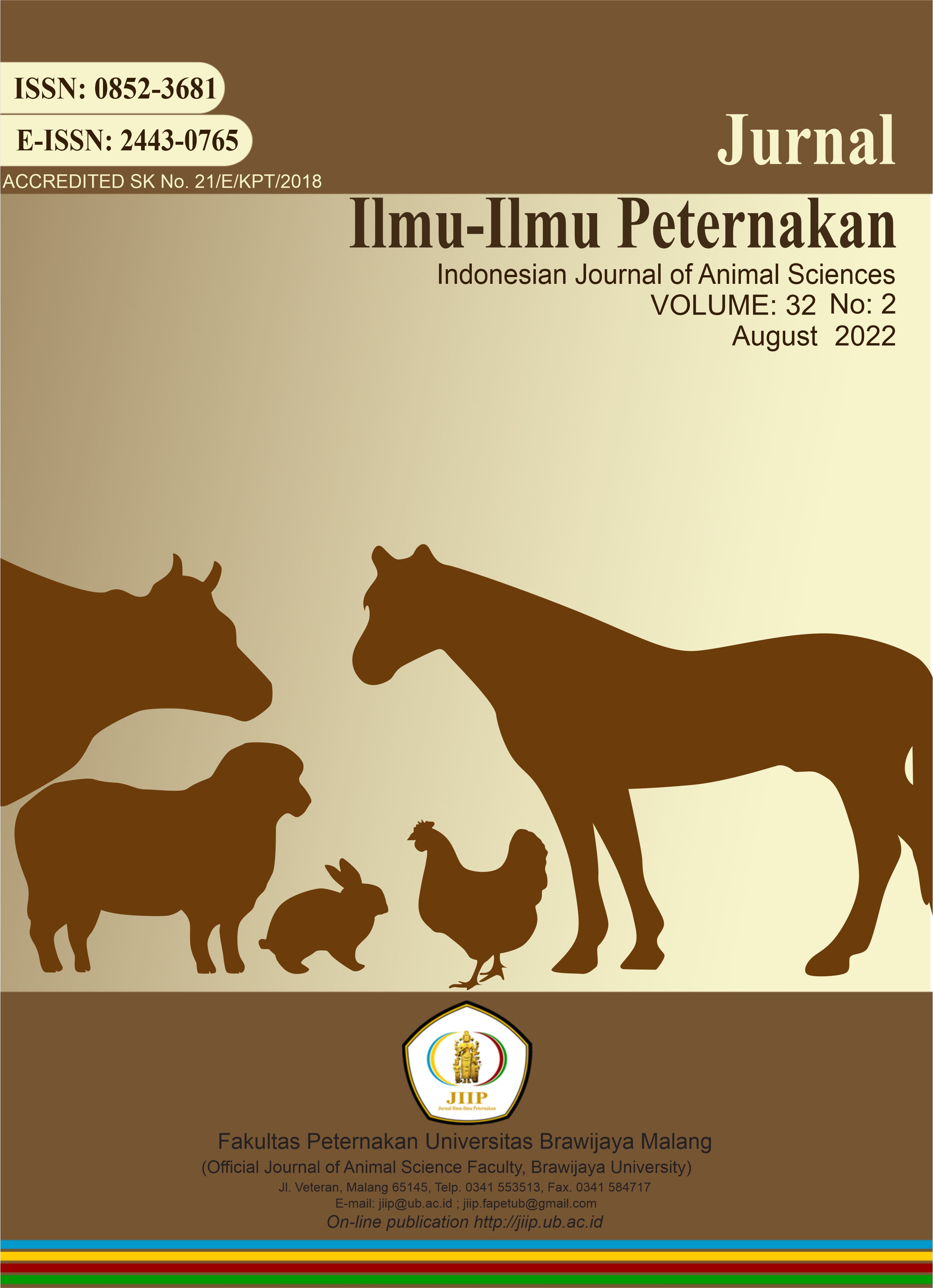 Downloads
License
Authors who publish with this journal agree to the following terms:
Authors retain copyright and grant the journal right of first publication with the work simultaneously licensed under a Creative Commons Attribution License that allows others to share the work with an acknowledgment of the work's authorship and initial publication in this journal.
Authors are able to enter into separate, additional contractual arrangements for the non-exclusive distribution of the journal's published version of the work (e.g., post it to an institutional repository or publish it in a book), with an acknowledgment of its initial publication in this journal.
Authors are permitted and encouraged to post their work online (e.g., in institutional repositories or on their website) prior to and during the submission process, as it can lead to productive exchanges, as well as earlier and greater citation of published work (See The Effect of Open Access).