Egg production and blood cholesterol of layers fed after adding fragrant pandan leaf flour (Pandanus amarylifolius Roxb.)
Keywords:
Egg performance, Blood cholesterol, Fragrant pandan flour
Abstract
This study aimed to determine the performance of eggs and blood cholesterol of laying hens fed with fragrant pandan leaf flour (Pandanus amarylifolius Roxb). A total of 200 laying hens were used in the study, with 5 treatments and 5 replications, each filled with 8 chickens. The research design used was completely randomized (CRD), and further analysis was conducted using Duncan's Multiple Range Test. Treatments given fragrant pandan flour were 0%, 1%, 2%, 3%, and 4%. This research was conducted for 8 weeks. Parameters included: ration consumption (g/head), ration conversion, egg weight (g), Hen Day Production (%), blood cholesterol (mg/ml), blood HDL (mg/dl) and blood LDL (mg/dl). Results showed that the use of fragrant pandan leaf flour up to 4% gave a very significant effect (P < 0.01) on conversion, hen day egg weight production, blood cholesterol, blood HDL, and blood LDL, but not significantly different (P > 0.05) on ration consumption. The study concluded that using up to 4% of fragrant pandan leaf flour increases egg production and reduces ration conversion, blood cholesterol, blood HDL, and blood LDL of laying hens and ration consumption and does not cause negative effects on the laying hens.
References
Adewole, F. A., Egbeyale, L. T., Ekunseitan, D. A., Bello, K. O., Lala, O. A., & Famakinde, S. A. (2021). Effect of strain and sex on haematological and serum biochemical indices of tropical indigenous chickens. Nigerian Journal of Animal Production, 48(2), 18–26. https://doi.org/10.51791/njap. v48i2.2924
Alagbe, J., Omokore, E., & Tijani. (2018). Effect on dietary supplementation of dried spondias mombin linn leaf on the performance and blood profile of broiler chicken. Pacific International Journal, 1(4), 34–48.
Badaruddin, R., Aka, R., Ollong, A. R., & Tiya, N. A. D. (2021). Kadar kolesterol, asam urat dan glukosa darah ayam petelur yang diberi jus daun sirih (Piper betle Linn) pada level yang berbeda. Jurnal Ilmu Peternakan Dan Veteriner Tropis (Journal of Tropical Animal and Veterinary Science), 11(1), 76. https:// doi.org/10.46549/jipvet.v11i1.172
Bayu Anggara, I. W., Partama, I. B. G., & Trisnadewi, A. A. A. S. (2020). Pengaruh pemberian sekam padi tanpa dan dengan fermentasi yang disuplementasi daun sirih dalam ransum terhadap bobot potong, non karkas eksternal, dan lemak abdominal itik bali betina. Majalah Ilmiah Peternakan, 23(2), 78. https://doi.org/10.24843/MIP.2020.v23.i02.p06
Dashti, M., Kulik, W., Hoek, F., Veerman, E. C., Peppelenbosch, M. P., & Rezaee, F. (2011). A phospholipidomic analysis of all defined human plasma lipoproteins. Scientific Reports, 1(1), 139. https://doi.org/10.1038/srep00139
Faitarone, A., Garcia, E., Roça, R. de O., Ricardo, H. de A., Andrade, E. N. de, Pelícia, K., & Vercese, F. (2013). Cholesterol levels and nutritional composition of commercial layers eggs fed diets with different vegetable oils. Revista Brasileira de Ciência Avícola, 15(1), 31–37. https://doi.org/ 10.1590/S1516-635X2013000100006
Farooq, M., Mian, M. A., Durrani, F. R., & Syed, M. (2002). Egg production performance of commercial laying hens in Chakwal district, Pakistan. Livestock Research for Rural Development, 14(2).
Kasapidou, E., Sossidou, E., & Mitlianga, P. (2015). Fruit and vegetable co-products as functional feed ingredients in farm animal nutrition for improved product quality. Agriculture, 5(4), 1020–1034. https://doi.org/10.3390/ agriculture5041020
Laptev, G. Y., Yildirim, E. A., Ilina, L. A., Filippova, V. A., Kochish, I. I., Gorfunkel, E. P., Dubrovin, A. V., Brazhnik, E. A., Narushin, V. G., Novikova, N. I., Novikova, O. B., Dunyashev, T. P., Smolensky, V. I., Surai, P. F., Griffin, D. K., & Romanov, M. N. (2021). Effects of essential oils-based supplement and salmonella infection on gene expression, blood parameters, cecal microbiome, and egg production in laying hens. Animals, 11(2), 360. https://doi.org/10.3390/ani11020360
Leke, J. R., Sompie, F. N., Wantasen, E., & Tallei, T. E. (2019). Nutritional characteristics and quality of eggs from laying hens fed on a dried papaya peel meal diet. ANIMAL PRODUCTION, 20(3), 147. https:// doi.org/10.20884/1.jap.2018.20.3.704
Lira, R. C., Rabello, C. B.-V., Ferreira, P. V., Lana, G. R. Q., Lüdke, J. V., & Dutra Junior, W. M. (2009). Inclusion of guava wastes in feed for broiler chickens. Revista Brasileira de Zootecnia, 38(12), 2401–2407. https://doi.org/10.1590/S1516-35982 009001200016
Magaretta, S., Handayani, S. dewi, Indraswati, N., & Hindarso, H. (2011). Ekstraksi senyawa phenolic pandanus amaryllifolius. Widya Teknik, 10(1), 20–30.
Ningrum, A., & Schreiner, M. (2014). Carotenoid-cleavage activities of crude enzymes from pandanous amryllifolius. Chemistry & Biodiversity, 11(11), 1871–1881. https: //doi.org/10.1002/cbdv.201400029
Oluwafemi, R., & Reuben, G. (2020). Effect of feeding polylathia longifolia leaf meal as partial replacement of wheat offal. European Journal of Agricultural and Rural Education, 1(1), 1–7.
Permatahati, D., Mutia, R., & Astuti, D. A. (2019). Effect of cricket meal (Gryllus bimaculatus) on production and physical quality of japanese quail egg. Tropical Animal Science Journal, 42(1), 53–58. https://doi.org/10.53 98/tasj.2019.42.1.53
Purba, I. E., Warnoto, W., & Zain, B. (2019). Penggunaan tepung daun kelor ( Moringa oleifera ) dalam Ransum terhadap Kualitas Telur Ayam Ras Petelur dari Umur 20 Bulan. Jurnal Sain Peternakan Indonesia, 13(4), 377–387. https://doi. org/10.31186/jspi.id.13.4.377-387
Purnamasari, & Indriati, R. (2020). Uji Efektivitas Ekstrak Daun Pandan Wangi (Pandanus Amaryllifolius Roxb.) Sebagai Antibakteri Terhadap Pertumbuhan Bakteri Escherichia Coli Penyebab Penyakit Diare. Universitas Pasundan.
Saleh, A. A., Zaki, A., El- Awady, A., Amber, K., Badwi, N., Eid, Y., & Ebeid, T. A. (2020). The effect of substituting wheat bran with cumin seed meal on laying performance, egg quality characteristics and fatty acid profile in laying hens. Veterinarski Arhiv, 90(1), 47–56. https://doi. org/10.24099/vet.arhiv.0500
Silalahi. (2018). Pandanus amaryllifolius Roxb (Pemanfaatan dan Potensinya Sebagai Pengawet Makanan). Jurnal Pro Life, 5(3), 626–636.
Suryani, C. L., Wahyuningsih, T. D., Supriyadi, S., & Santoso, U. (2020). The potential of mature pandan leaves as a source of chlorophyll for natural food colorants. Jurnal Teknologi Dan Industri Pangan, 31(2), 127–137. https: //doi.org/10.6066/jtip.2020.31.2.127
Tamiru, B., Alkhtib, A., Tamiru, M., Demeke, S., Burton, E., Tolemariam, T., Debela, L., & Janssens, G. P. J. (2021). Evaluation of dried papaya pomace meal in laying hen diets. Veterinary Medicine and Science, 7(5), 1914–1920. https://doi.org/10. 1002/vms3.516
Widyantara, P. R., Wiyana, A. I., & Sarini, N. P. (2013). Performa ayam isa brown umur 99-103 minggu yang diberi ransum komersial dengan suplementasi tepung kulit kerang. Jurnal Peternakan Tropika, 1(1), 545–548.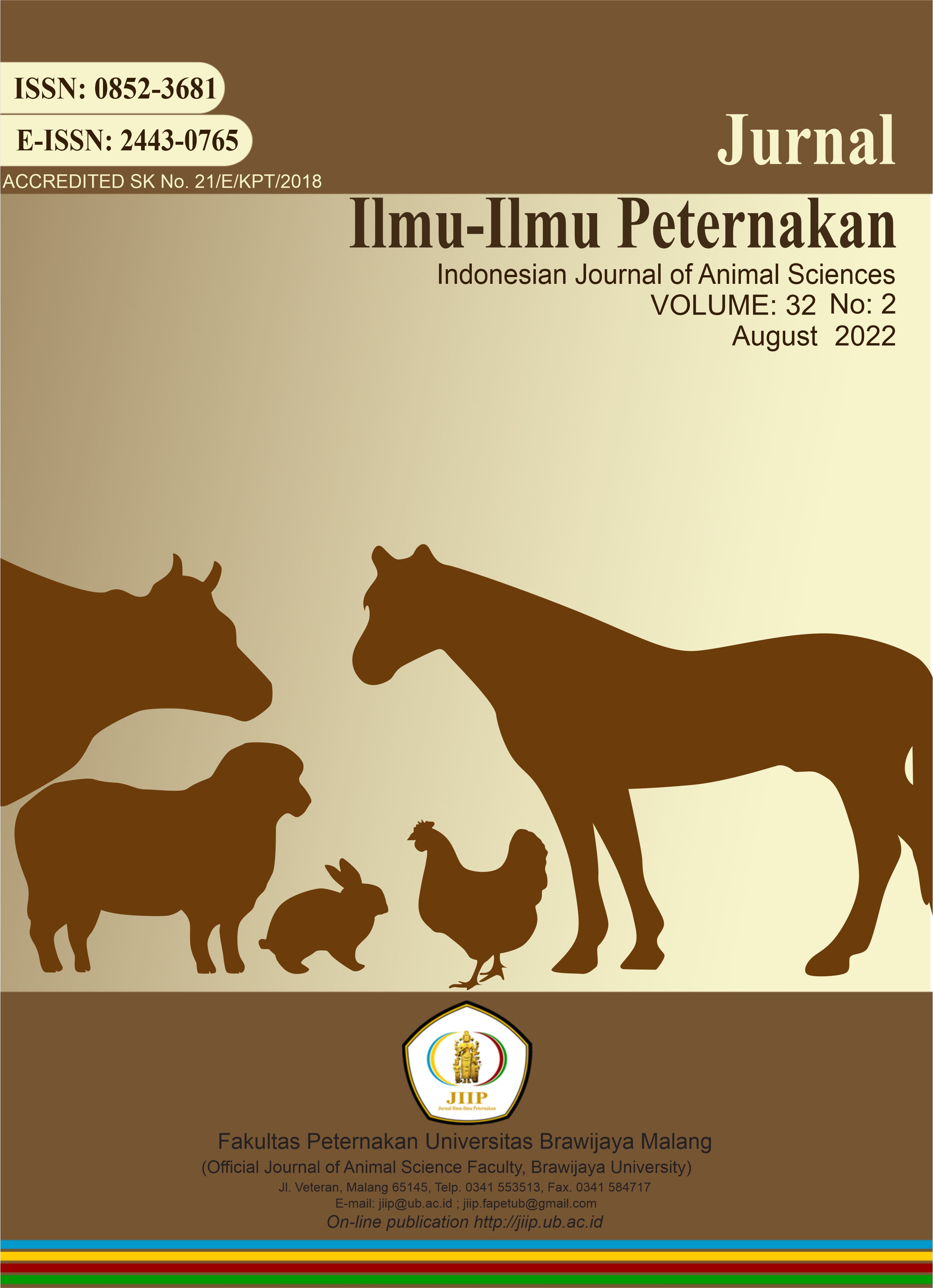 Downloads
License
Authors who publish with this journal agree to the following terms:
Authors retain copyright and grant the journal right of first publication with the work simultaneously licensed under a Creative Commons Attribution License that allows others to share the work with an acknowledgment of the work's authorship and initial publication in this journal.
Authors are able to enter into separate, additional contractual arrangements for the non-exclusive distribution of the journal's published version of the work (e.g., post it to an institutional repository or publish it in a book), with an acknowledgment of its initial publication in this journal.
Authors are permitted and encouraged to post their work online (e.g., in institutional repositories or on their website) prior to and during the submission process, as it can lead to productive exchanges, as well as earlier and greater citation of published work (See The Effect of Open Access).